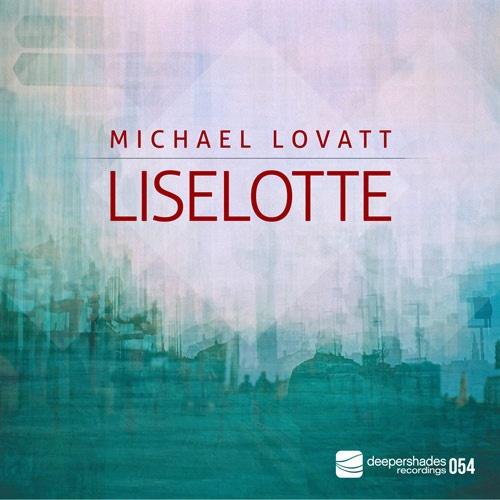 Michael Lovatt
Liselotte
Deeper Shades Recordings
Catalog Number: DSOH054

Release Date: July 31st 2015
NOW AVAILABLE IN ALL DIGITAL STORES
Click the logos below to purchase this release:


Deeper Shades of House always lives up to its namesake, its adamant fans demand it, whether it be the radio show, record label, or whatever other endeavor Lars Behrenroth, the man behind it all, takes on. Home to soulful, techy, dubby, groovy, and organic house sounds, Deeper Shades Recordings welcomes all of the above in Michael Lovatt for their latest release. Originally from Ireland, Lovatt is a house and techno producer living in Berlin. As a producer, he is deeply rooted in electronic music, developing alongside it in its burgeoning years and experimenting with it since he was a teenager, when he bought his first sampler. He's since released on a slew of international labels and seen support from some of the industry's finest.

Opening Lovatt's new single with trumpet fan fair, "Liselotte" is an exercise in the dubbier spectrum, driven forward by repeating chords drenched in echo and broken up by stretched out stabs and high pitched, glistening piano notes. A steady and relentless bass line rolls beneath the track ensuring it's as much a body work out as it is a trip for heady minds. By comparison, "Get High" instantly sounds more energized, finding additional bounce from an undeniable drum groove and upping the tempo a significant amount from its slower counterpart. Deep pads and vocal atmospherics set the stage as the rest of the song develops. Tricky elements like a whisper that sounds like a high hat (or vice versa) play with the listener's ears while a springy whistle provides another layer of excitement to what's already a stand out dance floor drill.

These two tracks dive deeper into dub, surface in subdued shades of moodiness, and uplift with a halcyon house feel - all sure to satisfy Deeper Shades of House fanatics and naysayers alike.

Selected DJ feedback:
Josh Wink - Nice swinging house to jack with!
Robert Owens - Nice track (Get High)
ManooZ - Get High is dope, really smart production. Thanks
Trickski - Dope Tune! Love it!
Roberto Rodriguez - Cool ones! Smooth summer vibes.
Pablo Bolivar - Great deep tunes, very well produced, thanks!
Moodymanc - Really diggin Lisolette here! Lovely stuff! Thanks!
DJ Caspa - Really like the vibe on the Liselotte track, will be supporting that one
Jesus Pablo - Liselotte is a deep groover… BIG fan of Michael's work and I'll be supporting this release.
Michael Fossati - A superb EP loaded with two tantalizing deep house cuts perfect for late night play.
Brothers' Vibe - 2 bangers!!!!
Brodanse - Feeling Get High! Nice one!
Sello - I'm already high! Get high for me!!! thanks
Jesus Gonsev - Love the groove on Get High track!
Bart van Rijn - Perfect tracks!! Many thanx for sending Grtzzz, Bart van Rijn
Tobias Koch - Nice one!
Casamena - My brother Lars has a consistently high taste level with his releases. Loving this Michael Lovatt EP.
Ralph Session - great package. liselotte is really cool. eerie funk. will play both of these tunes for sure.
Show-B - Loving 'Get High'
Nick Holder - Now this is what im talking about, Deeeep!
D-Malice - Great EP loving Liselotte. Full support from me.


Selected Reviews:
Former Hamburger Lars Behrenroth is a serious deep house trooper, hosting radio shows for almost twenty years now – his Deeper Shades radio show is now almost 500 episodes deep – and constantly pushing the genre by releasing quality records on his Deeper Shades imprint.

Release number 54 on the label is by Irish producer Michael Lovatt, who's clearly a fan of legendary deep house producer 'Pal' Joey Longo. 'Liselotte' sounds remarkably like some of Longo's early nineties work. Which is actually a good thing, if you ask us.
'Get High' is a well rounded deep house tool that's built around a nice bouncy bassline, hushed vocal samples and a sizzling hi-hats. Title track 'Liselotte' starts off on a jazzy tip before sticking to a slightly slower groove that's drenched in echo and deepness. Sweet stuff.
House Cult
-----------

More dub-infused deep house goodness on this latest from Deeper Shades Recordings.

On the A-side, Liselotte itself is an unhurried, lolloping groove consisting of a muted bassline, a simple nagging synth riff and quite minimal beats, topped with high-pitched piano notes… a track that 'does' very little but a headnodder's delight. Over on the B, meanwhile, Get High is a livelier deep/tech house affair with an urgent, almost bruk feel to the beats… but the A's the one for me here.
This Is Why We Dance
-----------

Deep House Pick #2: Michael Lovatt "Liselotte" (Deeper Shades Recordings CD Promo)
Upcoming on Deeper Shades Recordings is this superb release by Michael Lovatt loaded with two tantalizing deep house cuts perfect for late night play. The dubby title track "Liselotte" is a truly hypnotizing affair fueled with inebriant melodies over a relentlessly wobbling backdrop, while the more energetic "Get high" uses ruthlessly thumpin' rhythms as playground for seductive vocal atmospherics and moody melodies.
Spirit Of House
-----------

Written & Produced by Michael Lovatt
Artwork by Michael Lovatt - www.facebook.com/michaellovattofficial
Photography by Cris Llarena - www.crisllarena.com

(P) & © 2015 Deeper Shades Recordings
licensing: