Jesus Pablo & Adam Brass feat Raha - When I Touch Your Lips - The Remixes - Deeper Shades Recordings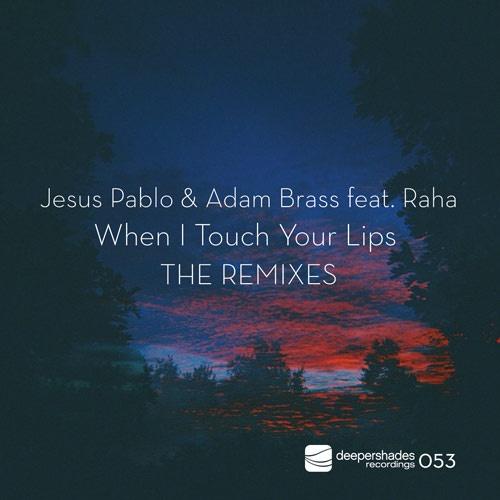 Jesus Pablo and Adam Brass feat Raha
When I Touch Your Lips - THE REMIXES
Deeper Shades Recordings
Catalog Number: DSOH053

Release Date: July 17th 2015
NOW AVAILABLE IN ALL DIGITAL STORES
Click the logos below to purchase this release from the following digital shops:





After hearing a lot about it from the lips of DJs and dancers world wide, Deeper Shades Recordings returns to Jesus Pablo and Adam Brass' spectacular single "When I Touch Your Lips" to paint it in a different hue with a set of new remixes.

Marking the pair's debut on the label, Pablo and Brass had previously worked together on releases for i!Records and Savoir Faire, but their collaboration with Russian singer Raha last year proved a sensually charged, wild, and exotic affair. It pooled together three different parts of the world and now, pulling from raw talent on Pablo's Something Different imprint, comes a remix from Nuno (SEA), by way of South Africa - an area Deeper Shades knows a lot about.
Originally from Spokane, Washington, Nuno (SEA) relocated to South Africa in '96 and never looked back. His remix drags "When I Touch Your Lips" through the desert with a sparse, unraveling narrative filled with mirage-like melodies floating in wavering layers serving as glimpses at a promising oasis just beyond and making for a subtly built up climax sure to satisfy the most insatiable of thirsts. This is accompanied by Nuno's introspective dub mix which leaves even more to the imagination.

Pablo and Brass' own dub leaves a more club ready foundation behind in it's place, allowing the bass to really shine and adding the slightest touch of a seductive synth line with evolving resonance.

Once again, Deeper Shades has provided the canvas to showcase masterful brushstrokes by some truly talented artists.

Written & Produced by Jesus Pablo & Adam Brass
Vocals by Raha
Remix by Nuno (SEA)

Photography & Artwork by Kathy Behrenroth
(P) & © 2015 Deeper Shades Recordings
licensing: