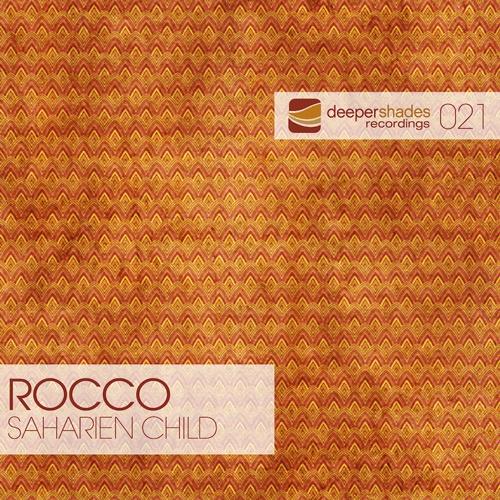 Rocco
Saharien Child
includes remix by Lars Behrenroth
Deeper Shades Recordings
Catalog Number: DSOH021

Release date: July 22nd 2011
Click the logos below to purchase this release from the following digital shops:
The long anticipated release of Rocco's production "Saharien Child" is finally around the corner. Two years ago the demo version was given to Deeper Shades Recordings label head Lars Behrenroth and since then Rocco & Lars have been turning heads each time they'd drop the secret weapon at their gigs.

Arabic vocals are not what you usually find in Deep House. On more than just one level, the Rocco's music and production combined with the passion and heartfelt interpretation of ancient lyrics full of powerful images describing the female power of seduction, "Saharien Child" is mesmerizing dance floors all around the globe.
Once again Rocco is proving that his sound is constantly evolving and each of his creations always offers something brand new.

Having been inspired by Rocco's version for so long, creating his own interpretation earlier in 2011 was not a far stretch for Lars Behrenroth. The emphasis of his remix also lies on the strong vocals while the music offers an alternative mood and vibe. Lars' beatless reprise version is very nice to mix it up in your sets while both mixes are also available as instrumentals for the vocalphobes.
---
What Others Have To Say:
* "Really nice new release mate! All the mixes are hittin' it but my pick for playing out is Rocco's Instrumental. Look forward to trying it at the weekend." Jimpster (Freerange Rec.)


* "I really love Lars' mix here, he's turned over the vocal stylings into a melancholic trip with the two chords running over the subtle groove... really touched me. 10/10" Funk D'Void

* "I heard this on our recent south africa tour and it blew me away, it wasn't long after I found it was a new forthcoming rocco track.. a deep house classic in the making from one of our most trusted labels and producer. The Layabouts (Papa Rec)

* "Great release...very different...unique....full support!" Jask (Thaisoul, Soulfuric)

* "Diggin' the vibe of this one..love the reprise!" Osunlade (Yoruba Rec.)

* "TOP PACKAGE HERE, FEELING THE LARS BEHRENROTH REMIX. DEEP TO THE MAX!!!" Vinny Da Vinci (House Afrika)


* "DOPE!" Nick Holder (DNH Rec)

* "Very nice indeed, like this ethno vibe, good mixes, too, full support." Michael Reinboth (Compost Rec)

* "One of the most intriguing and unique slabs of deep house ever made - Lars' remix is the one for me, CRAZY!!" Tomson (Development Music)

* "I like the Instrumentals" Jay Tripwire (Pokerflat Rec / Tonality)

* "Both of the instrumentals are GOOD! " Alex From Tokyo (Innervisions)

* "great track very original production haunting melody 10 10" Danny Rampling

* "Loving the original mix, killer bass line, dope beats and sexy vocals. Powerful weapon!" Rafael Moraes (Nomumbah)

* "The whole package and mixes are dope. full support here." Mr. V (Sole Channel)

* "Super impressed with this one. I think it's fantastic to not understand a vocal but be moved by the emotion, delivery and melody. Well done - full support on Orig & Remix." Hector Romero (Def Mix/ SAW Recordings)

* "Really impressive production by Rocco and solid remix by Lars! Both are deserving of attention." Tedd Patterson (Vibal)

* "Aiwa! !! One of the best things i heard lately..!" Fabio Genito (Vega Rec. / Deeper Shades)

* "Love it man!! Beautiful Music" Jamie Thinnes (Seasons Rec)

* "Original Mix is very nice. Will play out this weekend" Oscar P (MediaServices NYC)

* "Vocals are cool, but I love the music!! Great work" Oli Lazarus (Papa Rec.)

* "It's so nice, I had to play it twice in one night" MKL (Lion1Music)

* "I'm feelin' & killin' Saharien Child. Rocco & Lars turned this baby out." Jojoflores (Gotsoul / Therapy)

* "its nice. deep vibes def going on. good work on both yours and roccos mixes." Alix Alvarez (Sole Channel)

* "This release is solid and best of all different. DSOH continues to trailblaze it's way into decks all over the world." Marques Wyatt (Deep - LA)


also played and supported by Zepherin Saint, Boddhi Satva, DJ Spinna, Matthew Bandy, DJ Rork, Christos, DJ Tipz, QT, Mike Fossati, Jose Marquez, Halo, Greg Gauthier and many more ....
Rocco - Saharien Child
1. Saharien Child (Original Mix)
2. Saharien Child (Instrumental)
3. Saharien Child (Lars Behrenroth Remix) +
4. Saharien Child (Lars Behrenroth Remix Instrumental) +
5. Saharien Child (Lars Behrenroth Reprise) +
Original music composed, produced and mixed by Rocco at Rodamix Studio France.
+ Remixed & rearranged by Lars Behrenroth for Deeper Shades
Mastered by Gil Tamazyan
Artwork by Halo
(p) & © 2011 Deeper Shades Recordings - www.deepershades.net
licensing: