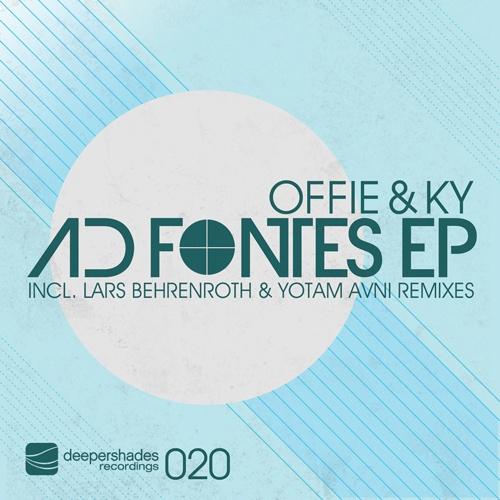 ---
Offie & Ky
Ad Fontes EP
incl. remixes by Lars Behrenroth & Yotam Avni

Deeper Shades Recordings
Catalog Number: DSOH020
Format: mp3 & wav
Release date: June 14th 2011


Click the logos below to purchase this release from the following digital shops:

Ad fontes is a Latin expression which means "to the sources" (lit. "to the fountains").


MMM Mathebula aka Clive Staples aka Ky & Offie Nxumalo aka Cooper are two talented producers from one of the fastest growing, "houzified" city in Africa, Johannesburg. The production team who already released on accomplished label Offering Recordings – owned by Boddhi Satva - came together for this EP under their original moniker Offie & Ky.

Two original hypnotic, deep and emotional tunes each remixed by label boss Lars Behrenroth and Yotam Avni who is known to Deeper Shades Recordings fans for his release "Save The World" on the Various Shades Vol.1
---
What Others Have To Say:
"Undefined Life is DAMN HOT !!!!!!!!!!!! My God this tune is amazing! Stompy, strong floor jam. The Lars Behrenroth mix of Ad Fontes IS DESTROYING ME !!!!!!!! SUPER DONE ON YOUR REMIX! What an EP!"
DJ Rocco (Buzzin' Fly, Realtone, GoGo Music, Foliage)

"Ad Fontes and Undefined Life are my picks in this nice package,thank u for sending!"
Evren Ulusoy (I Records,Plastic City,Loco,Proton,Nightdrive,Kolour)

"Wow...what a package. Every track is hot !!! Will play it LOUD 2night :)"
Mad Mats (Raw Fusion, G.A.M.M., Local Talk)

"Ad Fontes is tight. My favorite is the Lars Behrenroth Remix. Great spaced out sound"
Joey Silvero (Distant People)

"Love this tune. Support granted!!!"
AbicahSoul

"Love the Ad Fontes original, will play and chart. Maximum Respect"
Simbad (Raw Fusion)

"Proper release. Undefined Life (Original Mix) is the one for me to play"
Mark (Further In Fusion)

"Burner brooooooo"
Imaani Brown (Brown Skin Music,Smooth Agent Records,Ospina Digital,Deep Nota)

"I love your label"
Gary Martin (Teknotika)

"Thank you so much, great label, great music !"
Jose Carretas (Restless Soul)

"Love love love the package bro! Ur remix of Ad Fontes is killer and also the original of Undefined Life is a beast! will rock both at Cielo"
Master Kev (Code Red)

"Wow I love it !!! AD Fontes EP is fantastic"
Nando Muro (Dubhe Rec)

"You got my support bro."
DJ Pope (Poji Rec)

"Good tune. The Lars Behrenroth remix is the best of the bunch"
Tim White (House Afrika)

"Brilliant four track release. Loving it. Will play it a lot."
Laurent Garnier (F-Comm)

"Some nice tracks in this release. Will keep it handy for our Spirit Chaser sets"
Richard Earnshaw (Spirit Chaser)

"This release is a real pleasure, proper deepness with a great spiritual vibe, not many records around like this these days, a breath of fresh air, lovely mate thank you"
Leigh Morgan (Urbantorque)

"Loving the Lars remix. Pure deepness."
Halo (CityDeep Music)

"I dig the lb remix the most."
Henri Kohn (Conya Rec)

"Love the Lars Behrenroth remix of Ad Fontes - Hypnotizing groove. Well done"
Hector Romero (Def Mix)

"Full support"
Boddhi Satva (Offering Rec / Vega Rec)

"Joburg's Offie Nxumalo & Clive 'Ky' Staples present an incredible release with the "Ad Fontes EP" ("Ad fontes" is a Latin expression which means "to the sources" [lit. "to the fountains"]) which features two equally great deep hypnotizing tracks laced with celestial synth melodies. Remixes by label head Lars Behrenroth and Yotam Avni take both track to the next level - highly recommended."
Review from Spirit of House by Mike Fossati

Offie & Ky – Ad Fontes EP


1. Ad Fontes (Original Mix)
2. Ad Fontes (Lars Behrenroth Remix) +
3. Undefined Life (Original Mix)
4. Undefined Life (Yotam Avni Deeper Shades Dub) *


All tracks Written & Produced by Offie Nxumalo & Clive Staples
+ Remixed by Lars Behrenroth for Deeper Shades
* Remixed by Yotam Avni
Mastered by Gil Tamazyan
Artwork by Matt Pond
(p) & © 2011 Deeper Shades Recordings - www.deepershades.net

licensing: