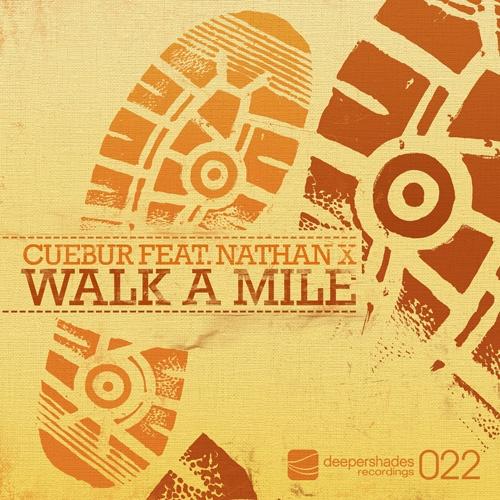 Cuebur feat. Nathan X
Walk A Mile
Ultra Tone & Original Mixes
Deeper Shades Recordings
Catalog Number: DSOH022

Release date: September 2nd 2011


Click the logos below to purchase this release from the following digital shops:
Eight months after their first release on Deeper Shades Recordings South Africans Cuebur and Nathan X are back with another deep and soulful gem. Their fans know to expect very emotional vocals by Nathan and an impeccable production by Cuebur.
This headliner of this release is the remix by Ultra Tone, which is also featured on Lars Behrenroth's 'Deeper Shades of House' compilation on House Afrika.
Ultra Tone are a young and aspiring production trio consisting of V.underground, Raza and C-Lab who for this remix received additional help in arrangement and keys by Cuebur and a final edit and mixdown by label owner Lars Behrenroth.
Punchy and driving deep beats, warm organic keys and bass plus Nathan's signature voice have already sparked support and regular play by DJs like Ralf Gum, DJ Christos, Abicah Soul, MKL, Jojoflores, Matthew Bandy, Fabio Genito, Nick Holder, Osunlade, Vinny Da Vinci, DJ Spinna and many more.
---

What Others Have To Say:


* "AMAZING release. Nathan X & Cuebur are def a strong combo. Really diggin the music, the beats, vocals and lyrics. DEEP as Deep can be. Full Support." Boddhi Satva (Offering Rec / Vega Rec)

* "This is the best Deeper Shades of House release for me so far" Ralf Gum (GoGo Music)

* "nice one..love the sound and vocal" Osunlade (Yoruba Rec)

* "another slice of solid deepness from deeper shades. loving this, will play and support!" Matthew Bandy (Papa Rec)

* "Deep thick track - complimenting the smooth rich vocals. Full support." MKL (Lion1Music)

* "smoothy deep...like it . will use it for my sunset gigs.." Fabio Genito (Vega Rec)

* "Loving this, great groove and beautiful, understated soulful vocal... ticks all the boxes." Tomson (Freerange / Tone Control)

* "This is dope!" Nick Holder (DNH Rec)

* "Very nice track! Perfect for my people! Full support! Played in my radio show!" DJ Rork (Stalwart, Radio FG)

* "Thanks." Kerri Chandler (Madhouse Rec)

* "Lush sounds creates a great emotional feel, will play this for sure" Joey Silvero (Distant People)

* "Thanks so much for this mate - awesome release!" Si Finnegan (Tone Control)


* "this is hot..." Abicah Soul (Abicah Soul Rec)

* "Very cool :)" Danny Krivit (718 Sessions)

* "yeah, been loving this one!! Our SA bro's are well on fire again!!" Andy Compton (Peng Rec)

* "NICE DEEP MIX, GOOD TO HEAR NATHAN X BACK..." Franck Roger (Realtone Rec)
Cuebur feat. Nathan X - Walk A Mile (Ultra Tone In Too Deep Mix)

Written and produced by N. Mboweni
Lyrics written and performed by N. Xulu
Remixed by V.L. Tefane 'V.Underground' for Cuebur Music/ Deeper Shades
Additional arrangement and keys by N. Mboweni
Final Edit and mixdown by Lars Behrenroth


Cuebur featuring Nathan X - Walk a mile (Original Mix)

Written and produced by N. Mboweni
Lyrics written and performed by N. Xulu

Cuebur featuring Nathan X - Walk a mile (Cuebur Remix)

Written and produced by N. Mboweni
Lyrics written and performed by N. Xulu
Remixed by Cuebur for Cuebur Music/ Deeper Shades

Mastered by Gil Tamazyan
Artwork by Matt Pond
(p) & © 2011 Deeper Shades Recordings - www.deepershades.net