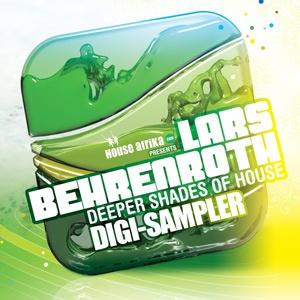 Various Artists
House Afrika presents Deeper Shades of House

DIGI Sampler
Deeper Shades Recordings
Catalog Number: DSOH023
Format: mp3 & wav
Release date: October 14th 2011
---


Click the logos below to purchase this release from the following digital shops:
---
Four tracks taken from Lars Behrenroth's CD mix compilation on South African record label HOUSE AFRIKA.
DIGI-SAMPLER EXCLUSIVE:
DA CAPO's JUNGLE BEATS MIX of Marco Fracasso's 'XIBA CHANT' is previously unreleased and ONLY AVAILABLE on the compilation and this digi-sampler.

About the CD (available in South African music stores like MUSICA and LOOK & LISTEN):
The latest lush mix from the resurgent House Afrika label is selected and sequenced by Lars Behrenroth, one of a few established international DJ/producers who are helping to spread the gospel of deep South African house music across the globe.

German-born and LA-based, Lars has a wide view of the wickedest in the house music world, and – along with the likes of Louie Vega, Andy Compton, Ralf GUM, Rocco, AtJazz and Boddhi Satva – he's seriously attuned to the ever-more awesome beats being brewed up on Africa's tip.
His debut SA-exclusive mix showcases the increasingly Afro-centric leanings of the international dance set, sweepingly matching material from the aforementioned Rocco, Boddhi Satva and AtJazz with funk flair tailored by this country's brightest production prospects, such as Kagiso 'Kaygee' Pitsong, Cuebur with Nathan X, and Da Capo (who recently impressed with a killer reworking of Andy Compton).
"Deeper Shades" has been Lars' trademark tag in his 20 years plus at the top of the dance game: his 'Deeper Shades Recordings' is the source of all thirteen cuts on this CD, which shares a name with his 'Deeper Shades of House' radio show. Closing in on 400 episodes, this weekly deep-cast has featured guest sets from the likes of Vinny Da Vinci, Louie Vega, Ben Watt and many more.
The phrase "Deeper Shades" is also the most apt summation of Lars' overall approach to dance music: that it should be deeply moving, all enveloping and soul expanding. Deep Afro-house is currently ticking all of these boxes.
The disc also includes no less than four, floor-stealing efforts from Behrenroth himself, and everything's loving laced together into a splendid showcase that demonstrates the deep links between established US and European beat-technicians and new African know-how.
In other words, it's hotness personified.
---
Marco Fracasso - Xiba Chant (Da Capo's Jungle Beats Remix)+

Written and produced by Marco Fracasso
Remixed by Da Capo


Soulscience feat. Dennis Baker - Hypnotize You (Atjazz Afrotech Remix)

Written, arranged and produced by Mikkel Dankner & Dennis Baker
Vocals & lyrics by Dennis Baker
Remixed by Atjazz

Fabio Genito - Papawenda (Anthony Nicholson Jazz Fusion Rewerk)

Written and produced by Fabio Genito
Remixed by Anthony Nicholson


Lars Behrenroth - The Way You Move (Original Dub Mix)

Written and produced by Lars Behrenroth
Mastered by Gil Tamazyan
Artwork by House Afrika

(p) & © 2011 Deeper Shades Recordings - www.deepershades.net
licensing: