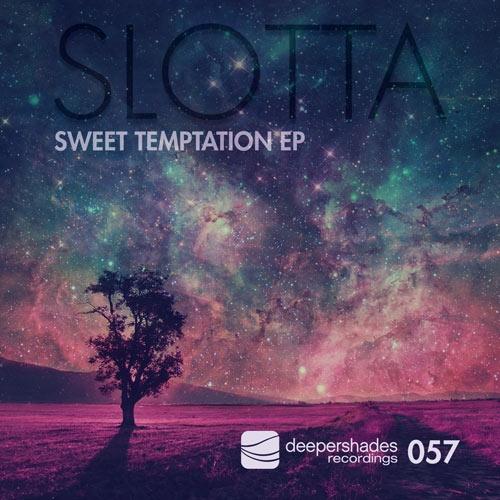 Slotta
Sweet Temptation EP
Deeper Shades Recordings
Catalog Number: DSOH057

Release Date: September 2nd 2016
Click the logos below to purchase this release or become a premium member to download it free:




Go Premium to Download 320kbps mp3 FREE
Hailing from Mbabane, the capital of Swaziland, Nicholas Sibusiso Dlamini got the nickname, "Slotta" in 6th grade from a good friend.

The 'Sweet Temptation EP' is Slotta's debut release on Deeper Shades Recordings.
The Swazi producer created 4 emotionally laden deep house gems for the dance floor, and your most intimate moments alike. Slotta takes a personal approach to his music encapturing a deeply embedded emotional connection. The DAW is his template, the instruments are his brushes, and the paint his emotions. He is a true arist that takes seriously to his craft.

The 'Sweet Temptation EP' begins with 'Dare To Dream' putting forth one's aspirations and pushing things to the limit. This is a dreamer's anthem and has the kind of melody you hum while you are working into the wee hours of the morning. A dreamer is never held up by time, workload, or circumstances and this track truly embraces that and brings out the emotions that encapsulate those feelings.
The 2nd track in the EP and title track, 'Sweet Temptation' has a lascivious undertone as the title suggests. The Saxophone teases the listener tempting them to dance while chasing the beat.
'Valley So Green' follows suit to set you free and allow you to lose yourself in the music free of any inhibition while 'Death To Heartache' delicately builds taking the listener into oblivion with intricate melodies and harmonies perfect for the summertime months lounging by the pool or the beach. Listening to the release in it's entirety makes it feel as if it is meant to be an album more so than a 4 track EP.


SELECTED DJ FEEDBACK:

Dr. Bob Jones (Mi-Soul Radio) "The journey we ride with Slotta is gorgeously deep, meaningful......and then some. Love the production on all cuts. Wonderful....absolutely! LOVE & SOUL."Dino Michael (South Africa) "Rocking! Full support!"

Julius Papp "Nice EP - plenty of "deep" emotion going on...especially enjoying DARE TO DREAM…"

Booker T "kool deep dreamer vibes will support"

Shane Johnson (Fish Go Deep) "Strong EP all round with the lovely, musical groove of Sweet Temptation standing out for me. Will be playing."

Charles Webster "'valley so green' is very nice..thnx"

Carlos Mena (Ocha Rec) "Sweetness! Will definitely rock these."

T-Deep (South Africa) "Awesome stuff"

Blakkat (Shaboom, US) "Very Hot!"

Juan Moreno (Sound Black Recordings) "Nice EP!"

Abicah Soul "Nice Release .. Deepness !!!"

Robert Owens "Great Tracks"

Hippie Torrales "Digging this EP"

SammyRock (Cyberjamz Radio) "Deep & souldful..this track has that special unique flavor we all enjoy. Either it be listening to dancing.. this release works !"

Nikko (Brazil) "for me "Dare To Dream" is best track"

Cory (Centric Music) "Not bad at all will support"

Rescue Poetix "Beautiful sublime deep sexiness. There is nothing rushed about this EP. It's a smooth vibe that speaks on many levels! It's difficult to pick a favorite as there is something nuanced and entrancing about each piece. "

Tyrone Francis (NYC) "dope release full support"

Ket Shah and Alan Kenny Arscott (Mucho Soul, London) "Nice EP"

Gene King (Shines Records) "I definately like the Dare to Dream track best on this EP"

Rory Cochrane (Deep Site Recordings) "Dare to dream & Sweet Temptation work for me, support thanks for sending!"

Nick V (22Tracks) "Valley So Green is my favourite, a very beautiful deep and soulful piece that puts you in a slow trance. Will be up on 22tracks this week"

Joey Silvero (Distant People) "just love the feel of Sweet temptation its full of emotion and takes you to another place"

Nicky B (Kaya FM, South Africa) "cool tracks, favourite: sweet temptation, 2nd favourite Valley so green"

Simon (Deep South Audio) "Smooth seductive beats .. Thanks Lars as ever very classy .. expect good support"

Kerem Gokmen (Dubmission Radio Show) "My first time hearing of Slotta, impressed is my initial reaction, all four tracks are solid."

Marc Cotterell (Plastik People) "Nice DEEP ep. great release"

Just Mo (South Africa) "Totally loving this e.p ... This is very hot, dance floor material. "

Souldynamic (Tribe Records) "Nice ep bro! good deep and emotional vibes! Dare to Dream is our fav mix!"

Christo (Superficially Deep Recordings) "You can really hear the craft that has gone into these tracks, a deep journey laden with mood and texture and full of emotion. Love it, hope to hear more soon!"

Deli-G (The Touch, BCfm) "Smooth E.P. Really Loving "Death To Hearthache" & Dare To Dream Cuts"

Mike Fossati (Spirit Of House) "Truly eclectic and inspiring deep house release"

Ingo Saenger (Byte FM, Farside Rec) "Wirklich tolles Release, Lars! Funky, soulful & sehr schoene Harmonien."

Nick Holder (DNH Rec) "Im diggin all the tracks, gonna drop this on my radio show tomorrow"

Jesus Gonsev (Troubled Kids Records) "Lovely and super elegant release bro!My fav is the beautiful Sweet Temptation track, remember the favolous naked music flavour with this Ep"

Mark Milz (Further In Fusion) "Another quality DSOH joint!"

Craig HHA (Real House Radio) "Really feeling the Dare to Dream track.. I love the melancholy of the keys, it's kind of happy and sad at the same time. Really nice track"

Satoshi Fumi (Japan) "love Dare to Dream and Sweet Temptation.Will Play!"


1. Slotta – 'Dare to Dream' (Original Mix) – 8:34
2. Slotta – 'Sweet Temptation' (Original Mix) – 9:43
3. Slotta – 'Valley So Green' (Original Mix) – 12:36
4. Slotta – 'Death to Heartache' (Original Mix) – 9:54

Written & produced by Nicholas "Slotta" Dlamini
Artwork by Triune Media

(P) & © 2016 Deeper Shades Recordings
licensing:


Tags: SLOTTA