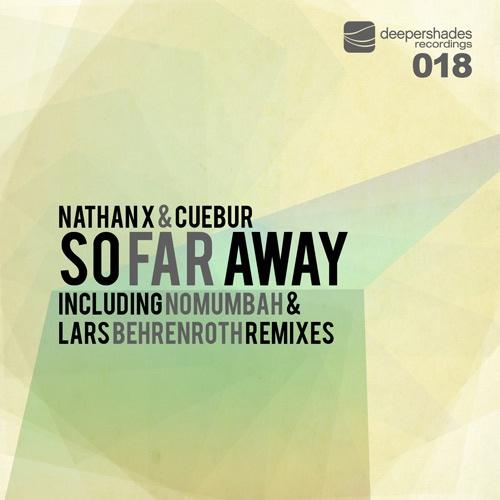 Nathan X & Cuebur
So Far Away
with remixes by Lars Behrenroth & Nomumbah


Deeper Shades Recordings
Catalog Number: DSOH018
Format: mp3 & wav
Release date: December 3rd 2010


Click the logos below to purchase this release from the following digital shops:

Fresh talent flying under the radar, that's what Deeper Shades Recordings is currently standing for. This time around we found a singer / songwriter from South Africa who will make it far with his unique approach and voice.

Nathan X is a young South African producer/dj/remixer/vocalist, who has been in the music industry for 4 years. He fell in love with the craft while still in high school and started teaching himself how to produce.
His sound has been influenced by the likes of Lars Behrenroth, Louie Vega, Boddhi Satva, Manoo, Kerri Chandler, Abicah Soul, Osunlade, Black Coffee and his life long friend Deejay Cuebur. The latter was also his production partner for this release 'So Far Away' which is essentially a ballad combined with a driving, shuffled afro inspired deep house beat and a killer bassline.

Label owner Lars Behrenroth is back on remix duties to prepare the vocal for the rhythmically straighter dancefloors while Brazilian producers & remixers Nomumbah deliver a vocally stripped version which reminds us of early 90's tunes you just can't pass up.

---
What Others Have To Say:
"Great package! Fellin both Lars Behrenroth Remix and the original mix. Deep quality as always from one of my fave house labels :)"
Mad Mats (Raw Fusion)

"Sounds great. feeling the Nomumbah mix."
Yannick (Needs)

"A nice beautiful & soothing release! The deep floor is calling!!! Bless... Thank You"
Culoe De Song (Innervisions)

"Great package Lars ! Loving all the mixes gonna hit this hard on rotation ... quality stuff yet again !!"
Groove Assassin

"very nice! Lars´s mix is my fav. Will play for sure."
Henri Kohn (Conya)

"Amazing. The original b-line has that right-but-wrong timing, like all kinds of people from IG Culture to Sa-Ra do, but no one really does in house music. It's Legba's limp. It's Dilla's swing. It's Nathan X. Heavy.... The remixes are wicked too, Lars and Nomumbah both, but yeah I can hear why you signed this. Dude's dope."
Bobstar (Restless Soul, Soulheaven)

"Nice Release!!!!All the mixes sounds amazing!My fav So Far Away (Nomumbah
Remix)"
Jesus Gonsev (Troubled Kids Rec)

"Thanks a lot Lars ! Love this one !"
Nacho Marco

"thanks for this...digging your mix man!"
Soy Mustafa (Cinematic)

"Nomumbah mix is working for me.. deeeeeep.."
Charles Spencer (Loveslap)

"Nomumbah is the mix full support"
DJ Pope

"A good mix between Afro, Deep & Jazz-House. The original for me!"
Marco Ferrini (Ferrini Records)

"Hope all is well in your world sir. Thanks for the new vibes...really strong release here, I've bagged all the mixes, Nomumbah just shades it for me, but all in all quality throughout."
Leigh Morgan (UrbanTorque Rec)

"Supporting"
Oscar P (MediaServicesNYC)

"Thank you very very much for this huge deepest sound !!!!
My heart swinging between the lars's mix & the original mix ! Congrats for this lovely single"
Patrick Balzat

"Dopeness, fully diggin the Lars remix of the track. but have to say i like the way the vocal floats over the Music on the original. All Quality house."
Ralph Session (Seshified, Liberate, Kapa)

"Thanks very much for sending me this.. its a great package all round. i like all the mixes.. but the nomumbah mixes are right up my street. id say the nomumbah instrumental is my fave, looking forward to playing it"
Matt Pond (Deeprhythms)

"Very nice ep, Lars Behrenroth and Nomumbah bringing the deepness the way I like it."
Halo (CityDeep Music)

"Amazing release! Love the vocals, the vibe...Fantastic piece"
Brothers' Vibe

"Amazing Ep ! The voice is Sublime and "Lars Behrenroth " is super Dope Deep mix ! Full support here and everywhere !"
Rocco (Realtone / Buzzin' Fly)

"I like all of the mixes but the one that does it for me is the Lars Behrenroth mix. In the words of Don Cornelius, "It's gotta groove that will make you move. Beautiful tune and I will be playing this one for a long time to come."
Alton Miller (Yore, Mahogani, R2)

"Lars killed it"
Marques Wyatt (Deep)

"A great package you put together. The instrumental versions work well also full support on this one."
Tony Lionni (Freerange)

"All the mixes here work for me, strong DeeperShades cut! Cuts like this shouldn't be So Far between!!!"
Kai Alce (ND-ATL, KDJ)

"Love the new release!! All mixes dope, but the originals the one for my set."
Andy Compton (The Rurals)

"'So Far Away' is a great deep sentimental song and I love the vocal delivery & melody. Lars Behrenroth Remix and the Original are perfect for me. Best of luck with it."
Hector Romero (Def Mix)

"Love the whole package, each mix gets deeper and sexier than the original!"
Kristi Lomax (One Track Mind, KPFK)

"A dubby afro joint that offer good and varied takes on the theme. I like the original best but the other mixes are quite tasty as well."
Ian Friday (Tea Party Music/Libation Party NYC)

Damn your new single is dope, ima put it on heavy rotation.
Nick Holder (DNH)

"Nomumbah mix is killin it for me ! Thanks for the Promo Lars."
Stephen Rigmaiden (Soso Deep)

"Feelin the Nomumbah Remix.. lovely old skool u.s vibes. will defo play that!"
Scope (NRK, Large)

"This one is hot"
Andy Ward (Soul Central / Vocal Booth)

"Smooth & Deep! Great Song with the perfect variety of mixes."
MKL (Lion1music)

"Another strong package from Deepershades - Original is great and Nomumbah's got that classic feel about it, while Lars brings the atmosphere it to the dancefloor!"
Simon Finnegan (Tone Control)

"Nice and beautiful. Full support."
Abicah Soul
Nathan X & Cuebur – So Far Away

Remixes by Lars Behrenroth & Nomumbah

1. So Far Away (Lars Behrenroth Remix) *
2. So Far Away (Nomumbah Remix) +
3. So Far Away (Original)
4. So Far Away (Lars Behrenroth Instrumental) *
5. So Far Away (Nomumbah Instrumental) +
6. So Far Away (Original Instrumental)

Written & Produced by Nathan Xulu & Nicholas Mboweni
Drums & Percussions by Nicholas Mboweni (Cuebur)
Strings, Keys & Synths by Nathan Xulu (Nathan X)
Additional keys by Nicholas Mboweni (Cuebur)
Bass & Song arrangement by Nicholas Mboweni (Cuebur)
Lyrics written & Performed by Nathan Xulu
*
remix and additional production by Lars Behrenroth for deepershades.net
+ remix and additional production by Nomumbah (Brazil)
Mastered by Gil Tamazyan

(p) & © 2010 Deeper Shades Recordings - www.deepershades.net