Liquideep "Feel It - Remixes" Deeper Shades Recordings DSOH028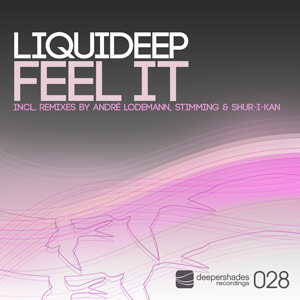 Liquideep
Feel It

Incl. Remixes by Andre Lodemann, Stimming & Shur-I-Kan
Deeper Shades Recordings
Catalog Number: DSOH028

Release date:
April 13th 2012 (mp3 & wav)
April 26th 2012 (12" vinyl)






---
Click the logos below to purchase this release from the following digital shops:
Vinyl is available from Juno Records and other well stocked vinyl retailers:

---
Taken from their award winning album 'Fabrics of The Heart', the soulful duo Liquideep returns with another sizzler - " Feel it " remixes.

Their favorite and Europe's finest Djs & Producers Stimming (Germany), Shur-I-Kan (UK) and Andre Lodemann (Germany) are dishing out hot remixes for your pleasure which will be heard all over this years Winter Music Conference in Miami and beyond.

The pre-release on Traxsource has already been charted by Reel People, The Layabouts, Cajmere, Matthias Vogt, DJ RaSoul, Fred Everything, Nomumbah, Booker T, Richard Earnshaw, DJ Spinna, Ralf Gum, Pezzner and many more!


Selected DJ Feedback:

- Dj Rocco "Andre Lodemann remix is SUPER HOT. I love his work from the first time heard it! Gonna play it loud!"

- Osunlade "Great release. Stand out remixes are the Stimming Dub and Shur-I-Kan's Vocal Mix"

- Ian Pooley "Uuuuuih, fat remix line up!"

- Phil Asher "Stimming remixes are awesome, I LOVE IT!. Honestly the Stimming Dub is "SICK"

- Charles Webster "Really good release ... Love the Lodemann and the Stimming remixes."

- Ralf Gum "I'm diggin' the Stimming remix. Gonna play it for sure"

- Mad Mats "Really hot! My faces are the Shur-I-Kan and original mix. Both will be played loud"

- Chris Woodward "Ace package"

- Marques Wyatt "Bad ass record"

- Jojoflores "Stimming Mix is dope"

- Jask "Shur-I-Kan mix for me"

- Hector Romero "I absolutely love this new single - WOW - so smooth and sexy. Original and Andre Lodemann are top class versions."

- Reel People "Big mixes from Andre and Shur-I-Kan"

- Moodymanc "What a great pack. The vocal is stunning; special indeed! Am liking all mixes on first listen"


1. Feel It (Andre Lodemann Remix)
2. Feel It (Stimming Vocal Mix)*
3. Feel It (Stimming Dub Mix)*
4. Feel It (Shur-I-Kan Vocal Mix)*
5. Feel It (Shur-I-Kan Dub Mix)*
6. Feel It (Original Mix)

Composer / Writer: Jonathan Hamilton
Producers: Jonathan Hamilton and Thabo Shokgolo
Vocals: Jonathan Hamilton
Publisher: Mentalwave
* Mastered by Gil Tamazyan
Artwork by Matt Pond
(p) & (c) 2012 Deeper Shades Recordings
licensing:


Discuss this article in the forums (3 replies).
Sabza Moriski

replied the topic:
#15404
5 years 9 months ago
Good music produced indeed. Good creations
Calvinator

replied the topic:
#15475
5 years 9 months ago
Don't miss with Andre Lodemann remixes he always work this dude dope rmx indeed.