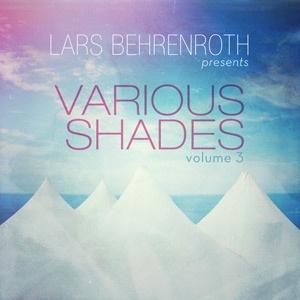 Lars Behrenroth presents

Various Shades Volume 3
8 tracks by 8 artists from all around the globe
Deeper Shades Recordings
Catalog Number: DSOH033

Release date:
February 1st 2013


Click the logos below to purchase this release from the following digital shops:
---
The third installment in the "Lars Behrenroth presents Various Shades" series on Deeper Shades Recordings features eight deep house tracks by eight producers from four countries.

Carefully selected and compiled by label head Lars Behrenroth, this mini compilation is yet another excursion into the different shades of deep and includes music from South Africa, Canada, Germany and the US to be enjoyed as a cohesive release or individually as perfect additions to your late night DJ sets.
Selected Feedback:

Osunlade
"lovely project..picks: rumba soul & shake to shuffle! eyes yd'e open is hot as well :)
definite support!!"
DJ Spinna
"
The package is Freshly Deep. Loving the Mover's Groove track. "
Just Mo
"All i can say is WOW!!! Super selection from Lars, This is going to cause a stir on the dance floors across Johannesburg, WE LIKE IT DEEEEP!!!"
Rich Medina
"Awesome stuff as usual."

MKL
"Deep and tasteful EP."

Vinny Da Vinci
"Awesome package for sure. Will definitely support this big time!"
Nick Holder
"this is crazy!"

Distant People
"great selection, and great atmospheres here, quality is just amazing, solid deep house"

Simbad
"Deeeeeeeep as fffffffffffff ...! Another ESSENTIAL volume showcasing Deeper Shades talents... Full support"

Moodymanc
"Nice comp, but in particular loving the DJ Embassy track here thanks..."

Groove Assassin
"Loving these some sublime deep monsters !!"

Rainer Trueby
"yes, a mighty fine release, very deep, found a few nuggets on here...stand-out for me was the "Rumba Soul" from Ethnique Fusion... thanks, will definitely play & support!"

Pirahnahead
"I'm loving this. Great Job. Shade by Shade - Deeper you go!"

Kiko Navarro
"very good collection of deep moods, i will play a few ones specially Oceanic Shades. gracias!"

Manoo
"Epic package to start the year with. FIRE!"

Michael Fossati
"We're gonna make it short and will not bore you with long lists of artists or track titles. Instead, we will concentrate on the essence of this phenomenal release on Deeper Shadings Recordings which features eight tracks from South Africa, Germany and the US, all hand-picked by label head Lars Behrenroth: "Various Shades Volume 3" is an ultra strong package loaded with nothing but the best in ingenious deep house music, taking you on a breath-taking journey through the different flavors of deep house, with each of the tracks guaranteed to send shivers down your spine..."
1. Napoleons - Oceanic Shades
2. 4matiq - Home Alone
3. Em.Deep - Eyes Y'de Open
4. EthniqueFusion - Rumba Soul
5. Marc Cotterell - Shake To Shuffle
6. DJ Embassy - Inside The Space
7. Phil Marwood - Mover's Groove*
8. Sinan Baymak - Hay Lizzen
* mastered by Medway Studios UK
All others mastered by Gil Tamazyan

Photography & artwork by Kathy Behrenroth

(P) & © 2010 Deeper Shades Recordings
licensing: