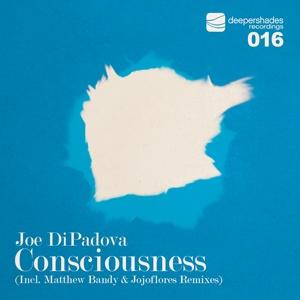 Joe DiPadova
Consciousness
incl. Matthew Bandy & Jojoflores Remixes


Deeper Shades Recordings
Catalog Number: DSOH016
Format: mp3 & wav
---


Click the logos below to purchase this release from the following digital shops:

<
---
Over four years in the making, Consciousness blends
Joe DiPadova's
production talents with Shea Marshall's incredible musicianship.
Matthew Bandy
stepped in later to help build the drums, and eventually do his own set of remixes. To complete the package,
Jojoflores
sat down with Joe DiPadova at Gotsoul Studios in Montreal to create a stripped-down dub mix for the deepest heads.
Moments. The fundamental building blocks of time in our lives. Nothing more than a concept. Each moment, in of itself, may be either monumental, even life-changing; or could instead be completely forgettable. We are the sum of our moments. We are the sum of accurately billions of moments.
Every single one of us, as humans, as sisters and brothers, have experienced moments that alter us forever. These moments, so simple, yet so very special, are often impossible to describe with our limited language of the physical. These moments, collectively, define who we are, individually and communally. These moments are the foundation of our Consciousness.
Consciousness is only a moment.
- Barry Cherman
---
What Others Have To Say:
"Loving the vibe. Top notch."
ABICAH SOUL
"Great Ep. Lovin all mixes. Full Support!"
ROCCO
Consciousness (Joe DiPadova & Jojoflores' Therapy Dub Remix)
"An inspiring peak to after hour hit. I'll be playing for years."
MKL LION1MUSIC
"Therapy Dub does it for me."
WILL RODRIGUEZ (REELSOUL)
"Another very nice DSOH release. After a first listening I would say I go for the Main One mix."
RALF GUM (GOGO MUSIC)
"Wicked new project and all mixes have a place in my collection!"
JAMIE THINNES
"Therapy Dub will get rocked at Yoruba Dance Sessions. Dope groove."
CARLOS MENA (OCHA/YORUBA)
"Nice release on Lars' Label. Keep up the good work."
DJ POPE
"Main mix is my favourite...love it!"
FABRIZIO MARRA
"Great bro. Joe is always soft and elegant."
SALVATORE AGROSI
"Deeper it is! Specially with the two "Therapy Dubs" my fave versions both working similar motifs of deep analog + electronic sounds . Sitting somewhere between the deep techno german sound sound + the more dubby Ferrer project. Will be played @ ((())) Stereo"
CHRISTIAN PRONOVOST
"Will definitely support the Therapy Dub mix. Great work on the rhythm to give a subtle afro groove complimented by sweet harmonies."
AROOP ROY (FREESTYLE RECORDS/UK)
"Super sick, will be banging it proper!"
JULIUS 'THE MAD THINKER'
"Great, love the piano dub."
DJ MANNIX
"New DSOH is quite tasty! Big ups Joe DiPadova for a beautiful release and Jojo Flores + Matthew Bandy for great remix treatments. Respect to Deeper Shades of House."
MIKE ZARIN (CONNECT/4DEEP)
"Big record! like em all. Full Support"
HENRI KOHN (SOULSTAR)
"Matt Bandy's mixes are great, very nicely crafted beats and percussion. I'd say his mixes are the pick for me."
MATT POND (BITTERSUITE, DEEPSYSTEMS)
"Thanks 4 the promo, lovely deep late night track, Matthew Brandy's remixes are floating my boat the most! definetly in my wallet, thanks again."
DOM NAVARRA
"Thanks for the promo. Always on point from one of my favorite labels. WILL SUPPORT FOR SURE!!!"
VINNY DA VINCY (HOUSE AFRIKA)
"Dope all around EP the dub takes you to another place."
HALO (CITYDEEP MUSIC)
---
Joe DiPadova - Consciousness
(Incl. Matthew Bandy & Jojoflores Rmxs)
1. Consciousness (Main ONE Mix)
2. Consciousness (Joe DiPadova & Jojoflores' Therapy Dub Remix) *
3. Consciousness (Joe DiPadova & Jojoflores' Therapy Piano Dub Remix) * [Traxsource.com Exclusive]
4. Consciousness (Matthew Bandy's Limestone Vocal Mix) ^
5. Consciousness (Matthew Bandy's Limestone Dub Mix) ^
6. Consciousness (Bandy's Bonus Beats) ^
Written by: Joe DiPadova, Shea Marshall, Matthew Bandy
Vocal by: Tatyana K (Melotronix)
Keys by: Shea Marshall & Joe DiPadova
Drums by: Matthew Bandy & Joe DiPadova
Arranged & Engineered by Joe DiPadova at Fat Uncle Salty's Poolside Funhouse (Tempe, AZ), Gotsoul Studios (Montréal, QC) & Uncle Salty's Mountaintop Palace of Love (Taos, NM)
* Remix by Joe DiPadova & Jojoflores for ONE and Gotsoul Recordings
^ Remix by Matthew Bandy for Limestone Recordings. Percussion by Anvi Rodriguez
Mastered by Gil Tamazyan (p) & © 2010 Deeper Shades Recordings - www.deepershades.net