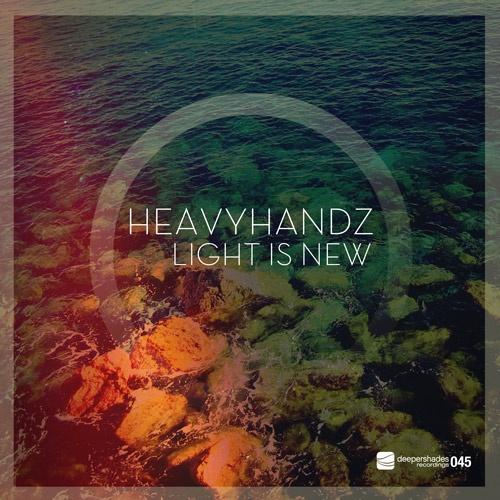 Heavyhandz
LIGHT IS NEW
Deeper Shades Recordings
Catalog Number: DSOH045

Release Date: July 4th 2014
Click the logos below to purchase this release or become a premium member to download it free:



DSOH Premium Silver & Gold members download free.
Simply log in and click the button below.
Heavyhandz "LIGHT IS NEW" DSOH Premium Download
The 45th Deeper Shades Recordings release comes from Los Angeles producer Roger Dickes. "Light Is New" is a dynamic deep house track made up by a minimal groove & sharp and flying synthscapes and stabs.

"This song is dedicated to Samuel - shine bright, my son!" Roger Dickes


Some DJ feedback:

DJ Spinna "It's funky, Love it!"

Vinny Da Vinci "Nice trippy joint! Feeling it .. Will support mos def"

Jimpster "Really into this new one. Loving the space and subtle synth work. I'm sure there will be some upcoming gigs where this will really shine."

Mr.V "LOVE IT! Nice & Deep For me!!!"

Alland Byallo "Very nice track. Very nice musicality to it."

Leigh Morgan (Urbantorque) "Love this track, actually picked it up on traxsource this week and was in this week Urban Torque Transmissions show"

Fish Go Deep "It took me a few listens to get into this but it's a grower. Definitely stands out from most other recent releases. Will feature on next week's radio show."

Ian Friday "Powerful deep and epic tune!"

Carlos Mena (Ocha/Yoruba) "Loving this bounce. Will definitely rock this in my sets."

Antonio Ocasio "damn brother - you keepin' it deep. Diggin' it!"

Marques Wyatt "Feeling this track"

Terry Farley "Love it a lot - more revival 2005 than DEEP HOUSE but very well done .. thanks"

Jonny Miller (ARCo / Tribe Recs / DM Recs / Soul Candi / Southport Weekender) "Really like this tune, a very different musical vibe all held together with a lovely groove. Gonna be real useful for the DJ sets. Full support from me, many thanks"

Souldynamic "Goooood Deep house bro! future vibes!"

Hector Romero "I'm really feeling this groove - I'm on it."

Nick Holder "Nice & Deep!"

Christo (Superficially Deep Recordings) "Great track with an infectious, playful, evolving synth line, really simple and tripped down but keeps you interested by drawing you in to melody. 8/10 "

Garphie (Soulheaven) "Again a great release! I will no doubt fit this into a daytime set im playing later this summer! Great journey music!"

Booker T "nice one bro. feeling this"

Joey Silvero "I like the blend of techy and a tough lighter nice spinning rhythms and groove"

Mike Fossati "For the lovers of refreshing and ingenious deep house we have "Light is new" from Los Angeles producer Roger Dickes. A minimal yet incredibly contaminous groove is leading the way for mind-blowing truly inebriant synthscapes and stabs. Make no mistake, this is a sure-fire late night weapon... "

Tony Watson "Monster Jam"


Written & produced by Roger Dickes
Artwork by Kathy Behrenroth
(P) & © 2014 Deeper Shades Recordings
licensing: