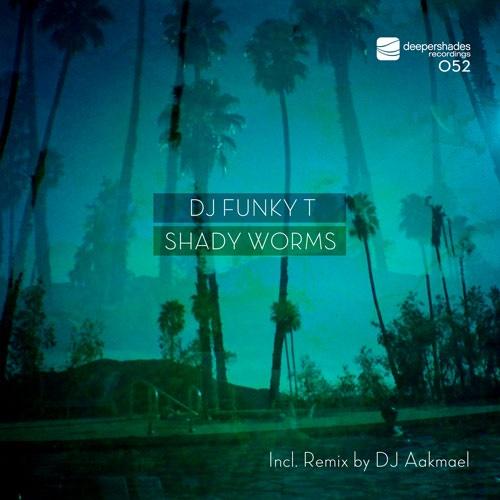 DJ Funky T
Shady Worms
incl. Remix by DJ Aakmael
Deeper Shades Recordings
Catalog Number: DSOH052

Release Date: May 29th 2015
NOW AVAILABLE IN ALL DIGITAL STORES
Click the logos below to purchase this release from the following digital shops:






After a soulful centered debut release on Deeper Shades Recordings end of 2013, DJ Funky T is back with a new 2 track single, showcasing the deep end of his productions. New to the label, but a long time friend of the Deeper Shades Of House radio show, is DJ Aakmael, who remixed the title track in style.

Wobbling pads, accentuating stabs, driving drums, a slow but steady build up and solo phrases flying around your head. Those characteristics fit both mixes of "Shady Worms". DJ Aakmael, known from releases on his own label UnXpozd as well as Late Night Running, Unified and more, was inspired by the original mix and added overall heaviness and percussion. The result is a track that picks up where the original left off.

"Stress Evasion" is one of those tunes that could go on forever. Repeating vocal snippets, psychedelic solo synths and sporadic bass notes will keep you interested and hungry for more!

1. "Shady Worms"
2. "Shady Worms (DJ Aakmael Remix)"*
3. "Stress Evasion"
All tracks written & produced by Simon Boitumelo Mosia
*Remix by DJ Aakmael

Artwork by Kathy Behrenroth
(P) & © 2015 Deeper Shades Recordings
licensing: