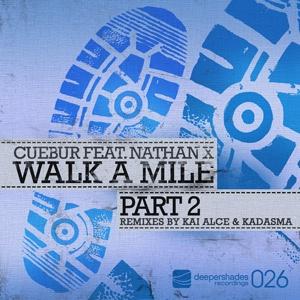 Cuebur feat. Nathan X
Walk A Mile Part 2

Remixes by Kai Alce, Ultra Tone & Kadasma
Deeper Shades Recordings

Catalog Number: DSOH026
Format: mp3 & wav
Release date: February 17th 2012







---
Click the logos below to purchase this release from the following digital shops:
---
After the worldwide success of the original, Cuebur and especially Ultra Tone mixes of "Walk A Mile", Deeper Shades Recordings is very proud to present Part 2 of this soulful and organic Deep House song.
Kai Alce and Kadasma are taking "Walk A Mile" even deeper using beats which make you move your body while your mind and soul will be lost in the beautiful instrumentation and Nathan X's signature vocals.


What others say:

Rocco (Freerange / Foliage, France) "Lovin the Ultra Tone Mix and Kadasm Deep Exploration. I will play for sure !"
Ethyl (Freerange / Secret Sundaze, UK) "Kai's interpretation is stunning Stunning stunning stunning"
DJ Rork (Stalwart / Radio FG, France) "My heart goes to the Kai Alce remix!! In my bag!! Great atmosphere!"
Carlos Mena (Ocha Rec, Miami) "Really diggin Ultra Tone's Deep Piano Instrumental. Will be playing this for sure as well as Kadasma's mix."
DJ Minx (Women On Wax, Detroit) "Very nice package Lars. I'm favoriting the Kadasma Deep Exploration Mix...sweet!"
DJ Christos (Katsaitismusic / The Urban Beat, Metro FM - South Africa) "Great Remix by Kadasma. Also love the Kai Alce Instrumental"
Rafael Moraes (Nomumbah, Brazil) "Thanks for the music, I'm feeling Kai Alce remix, good interpretation."
Just Mo (YFM, South Africa) "Absolutely digging these mixes my favorite is Kadasma mix and the Ultra tone mix.Quality deep house music ... Full support from me."
Jamie Thinnes (Seasons Limited, US) "Kai murdered it! Nice one! "

Richie (Untitled Music, UK) "Sounding on form Lars - especially enjoying the Ultra Tone In Too Deep. Piano Instrumental - great sound!"
Pierre Ravan (Karavan, UAE) "The Ultra Deep mix its off the Hook…full support"
Tim White (House Afrika, South Africa) "Kai Alce Remix is dope – like the laid back beats which work nicely for opening set."
Nacho Marco (Loudeast / We Play House, Spain) "Very good release, Kai Alce Instr. is my favourite here."
Pete Henry (Foliage Rec, Germany) "Very nice and deep, Kadasma remix is my choice..."
Anton Zap (UQ / Ethereal Sounds, Russia) " deep and soulful, thanks for sharing!"
Sarah Foote (Favoritizm, UK) "Hey Lars, loving this release, The Kadasma Exploration is the one for me, real pretty :)"
MKL (Lion1Music, NY) "Love the "Kadasma Exploration Instrumental Mix)!"
Joey Silvero (Distant People, UK) "more strong mixes of this beautiful track, kadasma does it for me, nice tension and smooth atmosphere, nice quirky perc groove works for me"
Owen Jay (Underground Quality, UK) "Love this release. Kai Alce keeps his forte but I also highly dig the 'Ultra Tone In Too Deep Piano Instrumental.'"
Phil Asher (Restless Soul, UK) "I Love the Piano Version, Its Dope"
Kiko Navarro (Pacha, Spain) "Great mixes from Kai Alce, liking the vocal and the Beats too."

Rich Medina (Jump'N'Funk, NYC) "I need that in my life"

Abicah Soul "I love all mixes. Solid project."


1. Walk A Mile (Kai Alce Remix)
2. Walk A Mile (Kai Alce Instrumental)
3. Walk A Mile (Kai Alce Beats)
4. Walk A Mile (Ultra Tone In Too Deep Piano Instrumental)
5. Walk A Mile (Kadasma Deep Exploration Mix)
6. Walk A Mile (Kadasma Deep Exploration Instrumental)


Written and produced by N. Mboweni
Lyrics written and performed by N. Xulu
1, 2 & 3 Remixed by Kai Alce for NDATL Muziq
4 Remixed by V.L. Tefane 'V.Underground' for Cuebur Music/ Deeper Shades
Additional arrangement and keys by N. Mboweni
5 & 6 Remixed by K. Mahlase (Kadasma Music) for Cuebur Music / Deeper Shades

Mastered by Gil Tamazyan / Capsule Labs
Artwork by Matt Pond
(p) & (c) 2012 Deeper Shades Recordings
licensing: