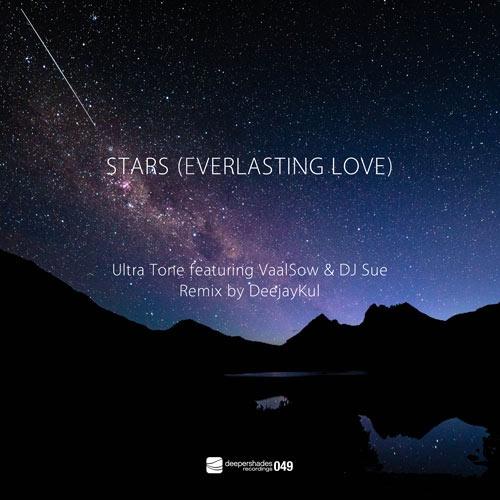 Ultra Tone featuring VaalSow & DJ Sue
Stars (Everlasting Love)
[DeejayKul meets Soultechnic Remix]
Deeper Shades Recordings
Catalog Number: DSOH049

Click the logos below to purchase this release from the following digital shops:






The first Deeper Shades Recordings release in 2015 is straight for the dance floor.
Soulful vocals by South Africa's VaalSow and DJ Sue remixed and complimented by powerful beats, a mesmerizing baseline, beautiful strings and chords from Spain's DeejayKul.
Ultra Tone are no strangers to the Deeper Shades Recordings label. First you took notice of Ultra Tone in 2011 by way of the ingenious DJ Cuebur feat. Nathan X "Walk A Mile" remix. Since then South Africa's Soul Candi hired Ultra Tone's V.Underground to supply the music for their Candi Roots Vol.2 compilation as well as releasing Ultra Tone singles.
DeejayKul is also a familiar name to Deeper Shades fans hearing his releases and remixes on labels like Atjazz Record Company, Local Talk etc. frequently on Lars Behrenroth's Deeper Shades Of House radio show.
Producer: Vusimuzi Lancaster Tafeni
Composer: Vusimuzi Lancaster Tafeni, William Makume.
Vocals: William Makume & Tiisetso Motaung
Writer: William Makume & Tiisetso Motaung
Original mixed by V.underground @ UltraToneStudio's
Publishing: Ultra Tone Publishing (Samro, SA)

Remix & Additional Production by DeejayKul

Photography & artwork by Kathy Behrenroth

(P) & © 2014 Deeper Shades Recordings
licensing: