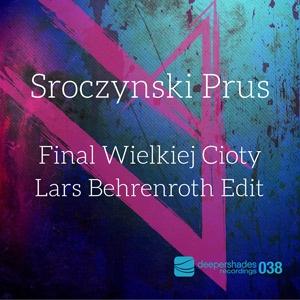 Sroczynski Prus
Final Wielkiej Cioty (Lars Behrenroth Edit)
Deeper Shades Recordings
Catalog Number: DSOH038

Release date:
September 27th 2013


Click the logos below to purchase this release from the following digital shops:
---
When Lars Behrenroth heard the original album mix of "Final Wielkiej Cioty" with it's "Freedom is full of promises" line, he immediately recognized the potential for a dance floor banger and got started on an edit for his own DJ sets. The outcome is an almost 9 minute long relentless scorcher which has been rocked by many A-list DJs, most notable, Osunlade, Hector Romero and Jimpster from Freerange Rec., who made the Lars Behrenroth edit a staple in their DJ sets of the recent months.

Many inquiries about the edit, especially after Jimpster's killer Boiler Room set moved Lars to license the original from Recognition Records to release his own version on Deeper Shades Recordings.

The edit also received airplay on the Freerange Radio Show, Compost Radio Show, Urban Beat South Africa, Deeper Shades Of House, and Karizma's brand new show just to name a few.


Selected DJ Feedback:
Osunlade "been rockin this one for a while..glad to finally have the wav's"

Karizma "Rokkd your joint on my show..Man the joint is killa"

Vinny Da Vinci "DOPENESS!!! Feeling this......... "

Hector Romero "Been rocking it for a couple of months now and it works each and every time!! Love it!! "

Rahaan "Very nice!!"

Owen Jay "Banger !"

Ralf Gum "lovely deep track!"

Nick Holder "This will be put on high rotation!"

Distant People "Deadly sound, shock wave sound, main room mayhem"
MKL "Five stars for my favorite track of the year. Automatic classic!"

Michael Reinboth "great atmosphere , right and perfect touch of sound and vox , like it a lot , full support"

Fish Go Deep "A fierce groove that develops all the way through. Love it!"

Reel People "Very cool.. thanks!!"

Sello "geiler track, drückt ordentlich"

DJ Spinna "SMOKER!"

Just Mo (YFM, SA) "Death by deepness!!! This that raw stuff that is hard to find these days. Full support from me!!!"

Simbad "Love the end when it goes freejazz !! Hypnotic shhhh chartin / plain thnx"

Rafael Moraes / Nomumbah "Faya!!! Lovin' it!!!"

Groove Assassin "This sounds KILLA ... Another banger from Lars !"

Charles Webster "great stuff..thnx"


Written & Produced by Tomasz Sroczyński
Lyrics by Ewa Prus
Original P & C Recognition
Original released on Recognition Records (RED04)

Edited by Lars Behrenroth for Deeper Shades
Artwork by Kathy Behrenroth
(P) & © 2013 Deeper Shades Recordings
licensing: