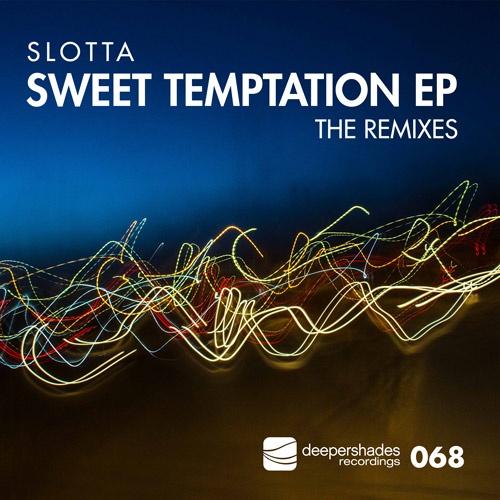 SLOTTA
SWEET TEMPTATION EP - THE REMIXES
Deeper Shades Recordings
Catalog Number: DSOH068

Release Date: November 2nd 2018
Click the logos below to purchase from a selection of stores (you can find the release in ALL digital stores)
or GO PREMIUM to download it free





Slotta's Deeper Shades Recordings debut release "Sweet Temptation EP" was very well received and helped elevate the Swaziland based artist's reputation for deep and beautiful music. A little over two years later you can now enjoy a brand new set of remixes for all tracks by the artist himself.


DSOH Premium Silver & Gold members can download each track of this release free on this page.


Simply log in and click the buttons below.
"Sweet Temptation (Slotta Remix)" DSOH Premium Download
"Death To Heartache (Slotta Remix)" DSOH Premium Download
"Valley So Green (Slotta Remix)" DSOH Premium Download
"Dare To Dream (Slotta Remix)" DSOH Premium Download
Slotta "Sweet Temptation (Slotta Paradise Remix)" DSOH Premium Download
1. Sweet Temptation (Slotta Remix) – 8:30
2. Death To Heartache (Slotta Remix) – 6:39
3. Valley So Green (Slotta Remix) – 12:08
4. Dare To Dream (Slotta Remix) – 7:00
5. Sweet Temptation (Slotta Paradise Remix) – 8:56

Music written & produced by Nicholas "Slotta" Dlamini

Mastered by Herb LF @ nfm mastering
Photo by Nicholas "Slotta" Dlamini

(P) & © 2018 Deeper Shades Recordings
licensing:


Tags: SLOTTA