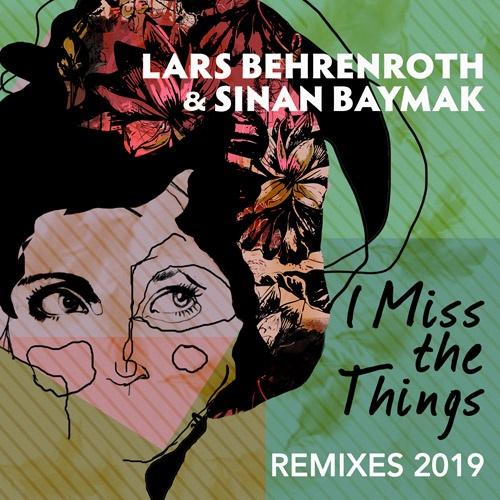 Lars Behrenroth & Sinan Baymak
I Miss The Things Remixes 2019

Remixes by Slotta, Michael Ashe, and FKA Mash
Deeper Shades Recordings
Catalog Number: DSOH075


It's been 11 years since the original release of "I Miss The Things" and even longer since its original conception.
In this package you'll find three brand new remixes, all hailing from Africa.

Slotta from Swaziland revisits the vocal and wraps it into a super deep, soulful, and dare we say, EPIC blanket. Expect to hear this (and sing along) on every deep and soulful dance floor around the world.

Speaking of epic, imagine starting your DJ set with Michael Ashe's dramatic afro tinged head turner! Send us a video and show us how your crowd reacts when the kick drum finally gets going! This remix by the South African producer is a masterpiece.

The third remix in this 2019 package of "I Miss The Things" comes from FKA Mash, one of the 'new' South African kids on the block who are rightfully claiming their ground in deep house music. Long-time on Lars's radar and asked to remix this song, FKA Mash from Johannesburg finished his contribution just in time to be dropped at last year's Spring Fiesta festival in South Africa. The premiere went over VERY WELL with the crowd singing along and people dancing hard to the bass-laden and emotional interpretation.


Available worldwide in all digital stores and on all streaming platforms






DSOH Premium Silver & Gold members download free.
Simply log in and click the button below.
"I Miss The Things (Slotta Remix)" DSOH Premium Download
"I Miss The Things (Michael Ashe Remix)" DSOH Premium Download
"I Miss The Things (FKA Mash Re-Glitch)" DSOH Premium Download
Written & produced by Lars Behrenroth & Sinan Baymak
Vocal performed by Bianca Damm
Original recorded at DBS Studios in Hamburg, Germany
Published by UNIVERSAL MUSIC - Edition Just A Groovy Song
Mastered by Herb LF @ nfm mastering
* Remixed & rearranged by Slotta
** Remixed & rearranged by Michael Ashe
+ Remixed & rearranged by FKA Mash
Artwork & design by Kathy Behrenroth
(P) & © 2019 Deeper Shades Recordings
licensing:
Tags: SLOTTA