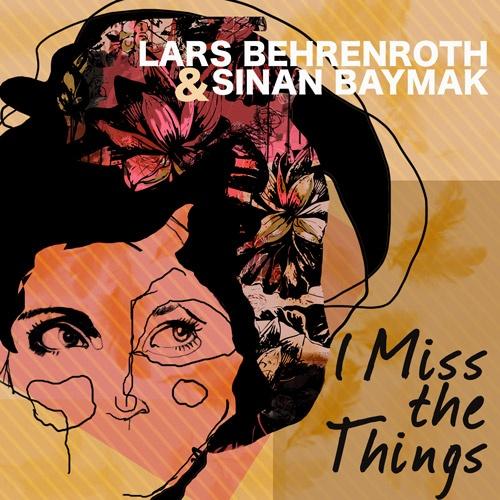 Lars Behrenroth & Sinan Baymak
I Miss The Things
Incl. remixes by Joe DiPadova & Shea Marshall and Sinan Baymak
Deeper Shades Recordings
Catalog Number: DSOH003

Release date:
June 17th 2008


Click the logos below to purchase this release from the following digital shops:
Deeper Shades Recordings' third release I Miss The Things comes from head honcho himself, Lars Behrenroth alongside his friend and longtime production partner, Germany's Sinan Baymak.

A seductively deep tune lays the groundwork for a contemplative and melancholic, yet uplifting vocal featuring Bianca Damm. Lars Behrenroth & Sinan Baymak's "Summer in Hamburg Mix" introduces the universally human theme with the natural sounds of the rolling ocean, allowing each layer to gradually build upon one another.

Joe DiPadova and Shea Marshall take the vocal into deeper and more soulful territory. Building energy and creating intensity that grows throughout until an organ solo provides release and yet simultaneously manages to propel the listener forward into another chord change.

Sinan Baymak's Dub Remix is rhythmically driven and represents Hamburg's new role in the Deep (Tech) House world. With sparse vocals and ascending key pads, things keep moving forward at peak hour without looking back.

Selected DJ Feedback:

Michael Fossati ( SpiritOfHouse.com ): As you would expect, I miss the things is pure deepness and a musical bliss, with the main 'Summer in Hamburg Mix' kicking off in a classic reprise style with just sounds of the sea and sultry female vocals before the mellow groove and lush chords come in to create a laidback feeling. Joe Di Padova & Shea Marshall slightly fire things up on their take that keeps the vibe soulful and gets deeper, with some added jazzy flavors for your enjoyment. Lastly there is the deep and electrofied 'Sinan Dub Remix' perfect for those peak time moments.

Henri Kohn ( Soulstar Rec / Conya ): Tight Shit. Joe's mix is my favorite.

Demarkus Lewis: Nice release, man. Smooth and deep should fit well inside the deepness.

Sandro ( Panevino ): very deep and lovely vocals… perfect for the summer! My favorite is the Joe DiPadova & Shea Marshall Remix.

Big Cee ( Consortium Muzik ): This release is exactly the kind of muzik we need in the industry, quality vocals. Simply wonderful kudos to you, Joe & Shea for this great work.

Kats Imai (Wave Music ): Sexy vocal for summer!

Jay Tripwire: yeah this is the jam..loving all 3 cuts..original and joes rmx is good for my deep loungy gigs and the sinan remix is great for tearing up the floor!!

Julius 'the Mad Thinker' ( 3 Degrees Global ): I love Joe's remix. So beautiful. Will be getting much play. I really like the 'Summer in Hamburg' mix as well.

Tim White ( House Afrika Rec ): The Sinan Baymak Dub Remix is the one for our territory. Very deep and Charles Websterish and up our street. Will be playing listing it on Beats Radio and including in my set.

Djinxx ( Mezzotinto ): Wonderful release, i really like the whole project ...sounds perfect..full support.

Keith Evan ( House Society ): I really like the summer in hamburg mix. Perfect for the poolside. I cant wait to play it Monday at the pool party at flamingo. The dub is really interesting. It took me a minute to get it, but once it got to the first break I started to get into it. The Joe DiPadova & Shea Mix is really nice as well. Felt like I was listening to some Naked Music…. Future classic!

Ralf Gum ( GoGo Music ): Nice one, Lars. My picks are Joe's remix & Summer in Hamburg

DJ Ala ( Dive Music ): Top notch production, heading straight into regular rotation for me! Lovely mix by joe & shea.

Simon Finnegan ( ToneControl ): Thanks Mate, will def give this a spin on my PushFM show tomorrow night! Am spinning up at the Southport Weekender in the vip, too - so will rep it where i can - keep up the good work...

Ryan ( Iwanai ): all these mixes are amazing .. love them!

Luis Baro ( XM Radio - The Move ): Rotation on XM - The Move

Ken ( East Coast Boogiemen ): I really love Joe's & Shea's remix, nice vocals as well, really good release

Fabio Genito ( Vega Rec ): Very sweet release. Diggin it a lot. This sinan baymak dub does me. Your summer in hamburg is dope and the joe di padova piano thing is very cool. I Like it a lot. The voice is right.

DJ Rork ( Radio FG ): very nice man. I play on my next radio show and I chart dis! I like your key lead.. so sweet song man..
Markus Enochson ( Sonar Kollektiv ): Full Support!

Hector Romero ( Def Mix ): Charted June 2008

Lars Behrenroth & Sinan Baymak - I Miss The Things
1. Summer In Hamburg Mix
2. Joe DiPadova & Shea Marshall Remix *
3. Sinan Baymak Dub Remix **

Written, Arranged & Produced by Lars Behrenroth & Sinan Baymak
Vocal performed by Bianca Damm
* Remix & Additional Production by Joe DiPadova & Shea Marshall
** Remix & Additional Production by Sinan Baymak

Mastered by Gil Tamazyan at Threshold Mastering, Santa Monica
Artwork by Kathy Behrenroth
(P) & © 2008 Deeper Shades Recordings
licensing: