Shaun Escoffery - Days Like This (Live on MTV)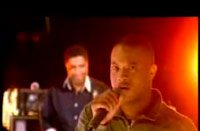 Live version video of this amazing song performed on MTV (Europe is my guess??) by Shaun Escoffery and band. 'Days Like This' is one of the greatest tunes you can hear on a deep house floor when that magical moment is in the air. If you have been to any of the Shelter parties during the recent WMCs you know what I am talking about. A big scream and EVERYONE... starts singing along. DJ Spinna definitely worked his magic when he remixed it for
Oyster Music
in 2001.
Personally, I've become very selective when it comes to picking the right moment to drop this song in a club. It really has to be one of THOSE nights. And when it is, well :) ...read above.
This live version takes the song to another level (if possible). When I saw it on YouTube it put a huge smile on my face. Check out the video of the great performance by Shaun and his band below. Adrian from Oyster Music posted this and many other Shaun Escofferey videos.
This link
takes you to his YouTube profile where you can watch the other videos.
I really wish there's a full release of this live version coming sometime soon. Maybe even a whole live album.
Enjoy the video,
lb.
{youtube}nSZtqChhNZg{/youtube}