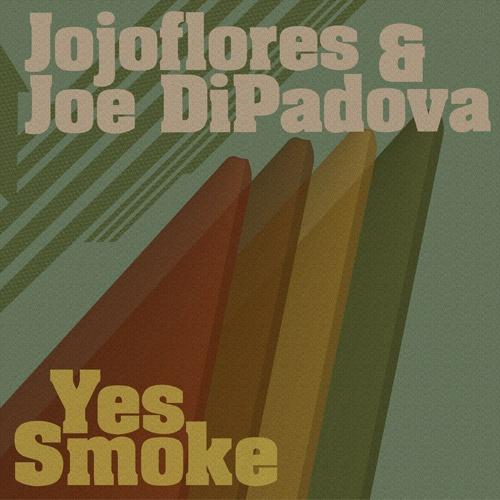 Jojoflores & Joe DiPadova
Yes Smoke
Deeper Shades Recordings
Catalog Number: DSOH001

Release Date: April 3rd 2008 (mp3 & wav)
Click the logos below to purchase from a selection of stores (the release is available in ALL digital stores):




In response to the Koro Koro classic 'No Smoke' comes the Deeper Shades Recordings debut release from Jojoflores & Joe DiPadova.

A generous rhythm intro sets the tone and is a perfect prelude to the subtle, introspective key work and sonic flourishes that follow. Yes Smoke's meditative nature does not limit it to late night home listening or simply headphone music. This has kept some of the hottest dancefloors moving worldwide over the past six months.

After years as one of the world's most in demand DJs, Jojoflores (Gotsoul / Therapy – Montreal) has been quietly sneaking the role of producer into his rolodex of talents. Yes Smoke is his strongest showing to date and his partnership with up and comer Joe DiPadova proves successful. Joe has been rewriting the book on house music in Phoenix, Az and has releases out now on Tribal Winds, Poji Rec & Getaway Recordings.


Deep, subtle, moving…Yes Smoke is a fitting debut for Lars Behrenroth's new label Deeper Shades Recordings. Expect great things to grow from these roots!

linernotes: DJ Offbeat (Soul Funktion - NYC)


Selected DJ Feedback:

"I used to play and still play the original version [by] Koro Koro.. but this version is definitely rocking, respecting the spirit of the original.. so YES I WILL PLAY THAT 2008 VERSION !!"
- Franck Roger (Real Tone - FRANCE)

"Deeper Shades Recordings starts with a interesting release from Jojoflores and Joe DiPadova. Sounds modern, deep, techy and soulful with a beautiful piano melody"
- Rafael Moraes (Nomumbah - BRAZIL)

"Deep Sh!t, slown'n'low, sexy deep"
- Jask (Large Music - FLORIDA)

"Many thanks for the track, I love and still play the original Koro Koro. I am loving this interpretation....great stuff"
- Harri (Sub Club - UK)

"yes smoke - yes please ... diggin it!"
- Murray Richardson (Rebel Waltz - UK)

"It's a proper deep house track and they are very hard to find these days, very tasteful indeed."
- Irfan (Rainy City Music - UK)

"Very nicely done. Lovely mix."
- Kaje (Trackheadz - CA)

"Fantastic release!! Supporting over here in London!!"
- Pablo Martinez (Bodymusic - UK)

"Really feeling this first release on your label. Here's to the future of Deeper Shades Recordings"
- Deli-G (The Future Of House Radio Show - UK)

"been listening to this alot.. it really is a journey! tight production on this with some serious trad deep house sounds.. "
- Ric McClelland (Scope - UK)

Plus support from Jihad Muhammad (NYC), DJ Rork (FR), Julius "the Mad Thinker" (CHI), DJ Offbeat (NYC), Abicah Soul Project (CHI), DJ Duane (SD), Kiko Navarro (Spain), Werner Niedermeier (Notenshun - UK), Cory Soulfusion (Centric Music - UK), Mike Clark (Detroit Beatdown), Gene King (Shines Rec - CA), Sammyrock (Cyberjamz - US), Sean Smith (Smooth Agent Rec - US) and many more



Written, Arranged & Produced by Jojoflores & Joe DiPadova
Written & Keys played by Shea Marshall
Engineered by Joe DiPadova at Fat Uncle Salty's Studios, Phoenix AZ

Mastered by Gil Tamazyan at Threshold Mastering, Santa Monica
Artwork by Kathy Behrenroth

(p) & (c) 2008 Deeper Shades Recordings
licensing: