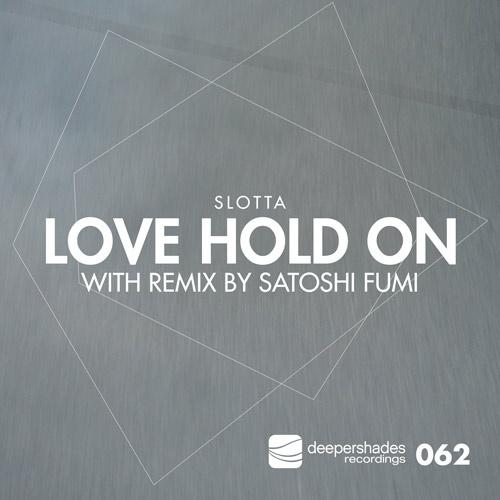 Slotta
Love Hold On
Remix by Satoshi Fumi
Deeper Shades Recordings
Catalog Number: DSOH062

Release Date: October 20th 2017
Click the logos below to purchase from a selection of stores (the release is now available in ALL digital stores) or GO PREMIUM to download it free:



Go Premium to Download 320kbps mp3 FREE
This is Slotta's second release on Deeper Shades Recordings.
In just a short time the producer from Swaziland has created a sound that is noticeably his. "Love Hold On" is a beautiful mid tempo house track with an almost balearic touch.

The remix picks up the pace with added string arrangement and a driving bassline, artfully created by Japanese producer Satoshi Fumi who is known from his releases and remixes on our friend Yoshi Horino's Unknown Season label as well as Moodmusic, Nite Grooves and many more.


1. 'Love Hold On' – 8:57
2. 'Love Hold On (Satoshi Fumi Remix)' – 7:30


Written & produced by Nicolas Sibusiso Dlamini
Remix by Satoshi Fumi
Photo by Lars Behrenroth

(P) & © 2017 Deeper Shades Recordings
licensing:


Tags: SLOTTA