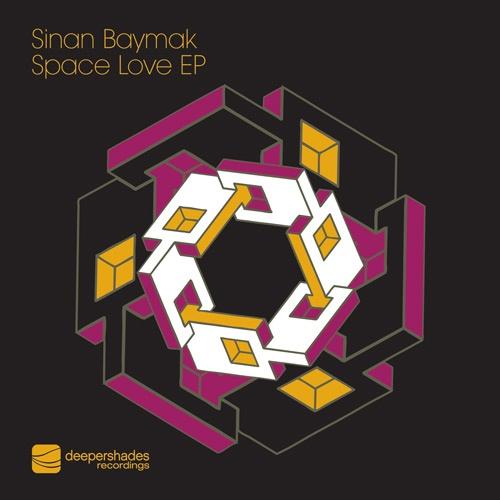 Sinan Baymak
Space Love EP
Deeper Shades Recordings
Catalog Number: DSOH007

Release date:
December 15th 2008
Click the logos below to purchase this release from the following digital shops:
Deeper Shades Recordings fans will remember the name Sinan Baymak as the co-producer and one of the remixers on DSOH003 "I Miss The Things".

The three track 'Space Love EP' showcases a much wider variety of Sinan's abilities to make people move without taking his productions over the top or relying on current formulas.

1. Deep Morning brings a driving darkness to the floor that will work peaktime as well as afterhours. Wait until you see the peoples reactions after the breakdown.

2. Space Love could be reminiscent of Kerri Chandler productions if Sinan wouldn't add his personal shuffle to this track. Chords that will rub you right act almost polyrhythmic while several solo lines tie the entire thing together.

3. Brazoul is definitely the organic piece in this three slice pie. A rolling neverending upright bass supplies the foundation with drum and fx accents and string sequences to warm your heart. Jazzy key progressions round up this live sounding recording.


SELECTED FEEDBACK:

Jimpster (Freerange Rec):
thanks mate, sounds wicked. Deep morning sounds the pick for me although the Space Love track sounds suitably crazy.

Lovebirds (Winding Road, Buzzin' Fly, Teardrop):
Space Love and Brazoul are dope.

Anthony Nicholson (Circular Motion):
Brazoul is innovative and courageous..... i'm really diggin it...

Osunlade (Yoruba):
I love 1 & 3 and have been rocking them in my sets...congrats!

Atjazz (Mantis):
Deep Morning is the one for me! oozing charachter and dynamic as you can get. 10/10

Claude Monnet (SSOH):
really nice package here, full support

Quentin Harris:
I love this minimal tech track. Deep Morning is a sick floor mover and I can't wait to play it out. Great job!

DJ Spinna (Wonderwax):
This EP is bangin! A definite "what the hell is this" on the dancefloor.

Alex from Tokyo:
Space love and Brazoul are cool! Good tracks to use in the mix.

Abicah Soul Project (Abicah Soul):
The shades really gets deep. I'm loving it.You guys rock on this e.p

Jamie Thinnes (Seasons Rec):
I LOVE THIS JOINT! dirty deep techno..... woo!

Mad Mats (Raw Fusion):
Dope dope dope! Best of the bunch is the deep and techy "Space Love"...loveleeeee!!!!

Simon Finnegan (Tone Control):
Lovin the wonky space love but also the intensity of Brazoul - its hard to name a fave, but will be def be playing both!

Volcov [Isoul8]:
Feeling this a lot…original!!! My picks are Space Love [especially] and Brazoul.

Jask:
Deep Morning and Brazoul are dope ! keep up the great work guys...

DJ Minx (Women On Wax):
DEEP MORNING IS THE HOTNESS, THANKS FOR ANOTHER DEEPER SHADES PROMO - LOVE 'EM ALL!!

Vinny Da Vinci (House Afrika):
ANOTHER REASON WHY DEEPER SHADES RECORDINGS IS ONE OF MY TOP LABELS... DEEP ALL THE WAY!!!!

DJ MBUSO (Phezulu Records):
Deep morning -Big one for the summer of south
africa-soweto loving it -big up thanks again

Master Kev (Code Red / Defected):
Very Dope Lars! Will be rockin this for sure, especially for the deep heads

Kai Alce (ND-ATL):
Yo really diggin Space Love will be throwin this down!

Pawas (Fear of Flying Rec.):
Deep Morning - nice morning track.... great ambience !!! / Brazoul - my fav pick... !!

Rafael Moraes (Nomumbah):
Nice pack, Deeper Shades goes deeper and techy on this one... Deep morning is my choice!

Peter Kruder (G-Stone):
Deep Morning: Great Track, Love it will play this. Brazoul: Nice and Smooth

Fish Go Deep:
Deep Morning - Very nice, late night/early morning mood. Can see this one working very well on my deeper dancefloors. Brazoul - Probably the track I'll get most dancefloor use of. Great bassline and groove with just enough melody over the top. Love it.

Pit Waldmann (8bit Records):
good one.. Will play brazoul!

Tony Rodriguez (Brothers' Vibe):
Feelin' the deep house vibe…. Lovin' the grooves….it's all good!

C-Rock (Motorcitysoul):
wicked tracks

Marlon D (Underground Collective, Strictly Rhythm):
Quailty cut . real dope !

Laurent Garnier:
really beautiful deepness .. looove the 3 tracks .. this is going straight in my record box ..
Brilliant , full support from me


1. Deep Morning
2. Space Love
3. Brazoul

Written, Arranged & Produced by Sinan Baymak
Mastered by Gil Tamazyan at Threshold Mastering, Santa Monica
Artwork by Kathy Behrenroth
(P) & © 2008 Deeper Shades Recordings
licensing: