5 Years Deeper Shades Recordings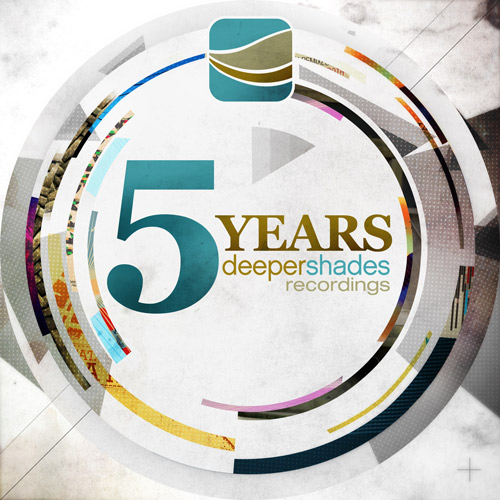 ---
When Lars Behrenroth founded Deeper Shades Recordings in 2008 his vision was to give upcoming as well as known and experienced producers from all around the globe a platform to share their music with the world just like he had done already for years with his radio show "Deeper Shades Of House". Looking back to a catalog spanning over 40 releases, 170+ tracks and remixes by over 60 producers this vision appears as a functioning formula for Deeper Shades Recordings.


Releases like Gyasi's "The Dance", Rocco's "Saharien Child", Liquideep's "Feel It", Gil Tamazyan's "Neotek", Fabio Genito's "Papawenda" and many other songs included in this selection have been played and charted worldwide by DJs like Larry Heard, Osunlade, Jimpster, Atjazz, Vinny Da Vinci, Cajmere, DJ Spinna, Karizma, Mousse T, Charles Webster, Joey Negro, DJ Spen, Ian Pooley, Louie Vega, Boddhi Satva and so many more.
"5 Years Deeper Shades Recordings" captures the spirit of the label in a compilation consisting of past releases mixed with previously unheard and never available remixes and original tracks.
* includes previously unreleased remixes & originals:
- Salvatore Agrosi "Spirit (Special Edit)"
- Marco Fracasso "Xiba Chant (Frekazoidz Remix)"
- 4matiq "Home Alone (4matiq's L2M Dub Mix)"
- Rocco "Saharien Child (Little D. & DJ Stamy Remix)"
- Sinan Baymak "Brazoul (Joe DiPadova Remix)"
- Liquideep "Feel It (Andre Lodemann Remix Lars Behrenroth Dub Edit)"
- 60 Hertz Project "Happy Days (BlackJean Dub in Pta Mix)"
Osunlade "A solid collection of deepness, not a filler in sight!"
Mad Mats (Local Talk) "Many thanks for the comp. good stuff as always. I played the Liquideep "Feel It" dub in Dublin this weekend. Def one of the best tunes the whole night. That bassline is sick :)"
Ralf Gum (Gogo Music) "If you are into real deep House music, which does not necessarily follow the usual current trends, you should by now know Deeper Shades Recordings, as it provides you with exactly this since 5 years!"
Soul Clap "Congratulations to Deeper Shades Recordings for 5 years of some of the dopest deepness in the solar system!"
Jask "Congrats on 5 years Deeper Shades Of House….Respect"
Soul Minority "This superb compilation includes some of the best cuts released by Deeper Shades Recordings during the last five years. Don't miss it, this is quality house music !"
2lani The Warrior (Do It Now Recordings, South Africa) "Deeper Shades Recordings has played a very important role in promoting South African deep house and its DJ's, including me. In the past 5 years, it has always delivered true, underground deep house, the kind that I can carry in my music bag."
Distant People "Deeper Shades has always come with the pressure, staying true to their style and belief in all things deep. You always get class and something a little different with Deeper Shades Recordings. Let's hope Lars makes it to another 5 years !"
Nick Holder (

DNH

Records) "One of the best deep house labels in the industry today that deliver nothing but pure quality."
Abicah Soul "Thank you for 5 strong years!"
Groove Assassin "Lars always delivers quality underground music. I've been a big fan of the label for a long time and am always loaded with some Deeper Shades weapons!"
DJ Strategy (House Afrika) "I always look forward to new Deeper Shades releases with their unique angles and quality production. Congratulations on 5 solid years!"
Owen Jay (Batti Batti) "Deeper Shades delivers a consistent flow of quality releases on various styles ; from the sweaty dance floor to the sandy beaches"
Zepherin Saint (Tribe Records) "Congratulations to Deeper shades for delivering 5 years of quality dance floor music. Always consistent and driven by passion for the music, I wish you many more great years of success."

Oli Lazarus (Reel People / Papa Rec) "Great label, always consistent, always deep & always soulful"
Danny Moodymanc "Many congratulations on the 5th anniversary, already a Deep House Institution! Here's to many more!"
Kai Alce (NDATL Rec.) "With Deeper Shades reaching five years with such a diverse catalog they have truly shown the many Shades of house! So now on to the next five years & beyond....."
Kiko Navarro "Lars, it's been a long time since I know you and your passion for music. You and your label have been since then faithful to what you have inside and you believe, true deep house. Keep doing your thing because you do it very well and we enjoy it and appreciate it, always on the deep side!"
Simon Finnegan (Tone Control Music) "Lars Behrenroth is a purveyor of fine, authentic, underground deep house music – the Deeper Shades label has captured the fruits of that mission for five years. Long may it continue"
Eric "Eman" Clark "I'd like to send my heartfelt congratulations to Lars Behrenroth and the whole Deeper Shades staff for 5 years of service to the House Music Community. Keep fighting the Good Fight. You continue to bring us this high quality of dance music from all around the world and we love you for it…"
DJ Simbad (Brownswood) "A label that's been releasing real deeeeep vibes from fresh artists worldwide, growing stronger & stronger, thanx to Lars Behrenroth. I discovered nuff good peeps too, so here's for another 5 years of essential quality !! Full respect"
Andy Compton (The Rurals / Peng Rec) "Well done with the 5 years Lars! Always top quality deepness, and loving the new comp….RESPECT!"
Just Mo (

YFM

, South Africa) "Deeper Shades Recordings has always been in the forefront when it comes to deep house music. Lars Behrenroth is one of those gifted individuals who has an ear for quality music & finding raw talent. Here's to the next 5 years!!!"
Mike Fossati (Spirit Of House) "For the last couple of years, Deeper Shades Recordings have been one of the leading and defining labels in the deep house scene, always looking for new talents and pushing the boundaries of house music…"
Julius the Mad Thinker "Deeper Shades is the business…congrats and keep rocking!!!"
Jojoflores (Gotsoul / peopl) "Deeper Shades always comes correct. In 5 years Lars has put out incredible music with quality branding. Putting me onto new artists is what I love about Deeper Shades. Here's to many more amazing years!"
Dino Michael (Godfather's House, South Africa) "Deeper Shades Recordings is one of the most consistent, upfront, quality deep house labels in the world! The label not only releases some of the best deep house around but also gives all deep house DJs worldwide, a platform to play on his award nominated radio show / podcast

DEEPER

SHADES

OF

HOUSE

show! Keep rocking Lars!"
Rafael Moraes (Nomumbah / Yoruba Rec) "Beside of our friendship and your long time radio show spreading the word of House Music, the record label brought good quality music to the world. I'm happy to be part of it! Keep doin' it!"


Artwork by Matt Pond
Discuss this article in the forums (1 replies).
Msenti226

replied the topic:
#20571
4 years 3 weeks ago
Thank u Mr Behrenroth,you've left me speechless ever since i started lis ening 2 the shows,Much Appreciated