Colonel Abrams - Trapped - Classic House Video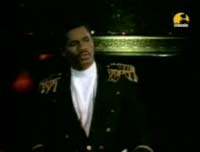 This right here is House before it was called House. 1985 - MCA Records, Colonel Abrams was 'Trapped' and all over the Radio singing how he's confused. Anything but, I would say. And yes, if the gig's the bomb, I pull this song out every once in a while. Sweetness... btw. the Colonel never stopped being active in House Music. I have quite a few 12"s in my collection.

More info as always on discogs.com. Check out the flipside. Two mixes by Timmy Regisford (Shelter, NYC).