Day 4 and 5 SAMC 2010
This has been the trip of weird sleep schedules.

We slept and chilled all of Sunday, so I wasn't able to sleep before 3am which was way too late since we got picked up at 6.45am to make our way to day 1 of the Southern African Music Conference at the Alexandre Theater in Johannesburg. After we collected everyone, traffic was so bad that we decided to wait it out and have some breakfast. At Wimpy's :) .. It was actually quite good, eggs, sausage, coffee, you get the idea.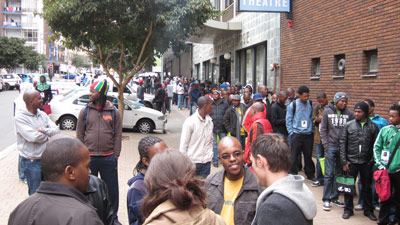 Once that was done the streets had pretty much cleared up and after a short drive we pulled up to the venue around 8am only to find a huge line of attendants outside of the theater.
We made our way inside and let me tell you, that place was cold :)
After setting up for Halo and my Traktor presentation, the doors were opened and people starting streaming in. All members of DJU welcomed the attendants of the SAMC2010 and we got started with the first session, called 'The Perfect DJ Set'. Christos Katsaitis talked about technical aspects of mixing, using FX during your sets while Ralf Gum talked about how to prepare your set depending on venue, timeslot etc. The panel was very informal and flowed nicely. We all added our two cents to what everyone had to say. Halo and I touched on the topic of digital DJing and shared our enthusiasm for Native Instrument's Traktor software and their Kontrol X1 controller. Like everything during the SAMC, this session was filmed and we already received an edited DVD. I'll encode most of the video once I'll find time and you'll be able to watch some of the panel here on deepershades.net.
Other sessions of the day involved talking about licensing your tracks to labels, making sure you read and sign the right contracts, how to get your music to labels etc. Very interesting and again Ralf, Halo and I had a lot of information to share alongside Christos and Oskido who would lightly guide and host the panels. Lunch was served on the premises and it was hearty and good. Rice, Lamb, Vegetables, Salad and juice.
In between sessions we'd roam around the theater to meet and mingle with the attendants who were very excited to exchange a few words with us while being able to take pictures and maybe ask additional questions regarding earlier topics.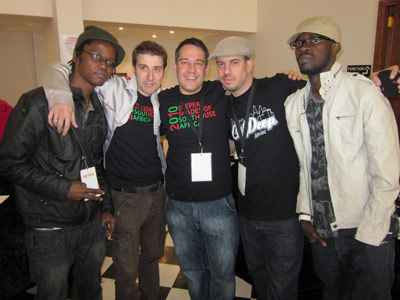 I also met a lot of people I've been in touch with online, especially Deeper Shades Recordings artist BlackAngel, Culoe De Song, Black Coffee, Petro from Afrodesiamp3.com and many others. The first day at SAMC wrapped up around 5pm and before we'd leave to make our way to dinner to celebrate Ralf Gum's birthday and his and his wife's 2nd wedding anniversary, Ralf, Halo and I were interviewed by House On, a south african online and hopefully soon print magazine about House Music. It was a nice dinner but rather quiet since we were all EXTREMELY tired. Around 9.45pm We arrived back at the hotel and immediately after I entered my room I passed out cold only to wake up a few times within the night. So annoying and draining :(

The second day of SAMC started when we got picked up from the hotel at 7.45am. The first session was Halo and my remix session. We took 'Machunga', a local track by the Infinite Boyz and showed the crowd how we approach a remix, how to EQ, compress, add FX to different parts, slightly touched on the topic of arrangement and answered a lot of questions. This session took a little over two hours and Halo and I will finish our remix when we get back to the US. Can't wait to see the DVD of that session.
For the rest of the day we would hang out with the people, take more pictures and answer questions while popping up on stage occasionally to add our opinions where necessary :) Martin East showed up since he's in the country as well to add his take on production on DJing using Ableton Live.
During the lunch break Halo and I sold some of our T-Shirts to the kids for a special price since we didn't wanna push it too hard. After lunch one of the sessions would introduce up and coming producers like the Mushroom Boys, Mr. O., Essential-I, Mindlo and others. They'd answer peoples question on how they got where they're at, how to present their music to labels and more.
Very interesting and inspiring cause the Deep House scene here in South Africa is very young which gave us veterans a lot of hope about the future. We weren't part of any more panels so we decided to leave early to chill a bit in the hotel.
Dinner was at Oskido's restaurant where we had REALLLY GOOD STEAK with a bomb pepper sauce and an amazing bottle of red wine .. 2008 Meerlust .. South African red wine which was smooth, fruity, dry and soooooo nice to drink. The hospitality in this country is very unique and special and we had nice conversations and were joined by some other young producers who asked more questions and we dove a little deeper into the topic of mastering, samples etc. At the same time the game Netherlands - Uruguay was going on and of course the South African's were very happy when those who kicked them out of the tournament were sent home by the dutch. Can't wait for the Germany game and I'm hoping my prediction of a German - Dutch final will come true.
The wine did what it does and when I was back in the hotel around 11.30pm, I once again passed out without doing anything. Of course I couldn't sleep as much as I wanted and have now been awake since 6am, downloading some promos, arranging some meetings and of course writing this blog post.
We were supposed to hold a second remix session today but decided to postpone it until tomorrow. The only panel we'll attend today is the 'Independent Label' one which I think will be very interesting not only for aspiring label owners but artists and DJs alike. During the lunch break we'll also most likely sell more shirts to the fans. Hope to see you there if you're in Johannesburg and for the rest of you, stay tuned for the next post when I get to it.
Keep It Deep