Day 2 and 3 Yfm radio and Ekhaya gig
Ohhhhh damn.
The jetlag was def. working me on Saturday. After I was finally able to sleep at 3.30 am I already woke up again at 7.15 am and couldn't go back to sleep. I think it had at least partially to do with the fact that I didn't have a heater in my room, or at least I thought. Remember, it's winter here. Later in the afternoon, Ralf Gum's wife was kind enough to let us know how to work the machine that we thought was just an A/C and now it's nice and toasty in our rooms :)

Halo and I enjoyed an early breakfast at our hotel and hung out until we got picked up early afternoon. First stop was lunch at Christos Katsaitis' restaurant Shaguma were we tried Christos Lamb Chops. Greek style, oh yeaaahhh .. they're the bomb. And yes, I should have taken a picture. Next time.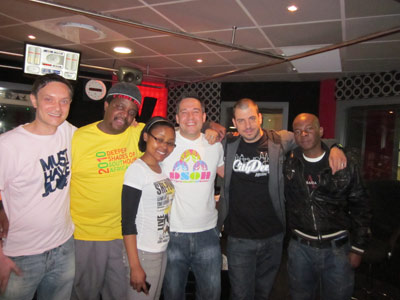 Then it was off to pick up Ralf from the airport who had played in Durban the night before with Christos. We went directly to Yfm radio to be guests on Oscar 'Oskido' Mdlongwa's show 'Oskido's church'
. Each of us gave him a 30minute mix and were interviewed individually to talk about music, our labels, DJing and what we're planning to share during the panels and sessions at the SAMC. We had a really good time on his show and left to meet Christos, his wife and Ralf's wife at dinner. Jetlag was present once again, I couldn't eat much and started to get really tired.

LUCKILY I had a chance to take a one-hour nap before we would make our way out to Ekhaya Lounge for the first SAMC party this year and my first gig ever in South Africa.

OOOOHHHHHH DAMN, is how I would describe it.

It is my first time here so I only heard about people in SA and their love for deep house. It's almost an obsession. They were chanting 'Deeper Shades of House, Deeper Shades of House, Deeper Shades of House', when they just saw me making my way on the stage to set up and the energy in the room was boiling when I started my set with my remix of Gyasi's 'The Dance'. Biggest tracks during my set were 'The Dance', Busi Mhlongo's 'Awukhu Muzi (Blaq Souls Dance Mix)', Jay Tripwire & Boddhi Satva's 'Dema (Lars Behrenroth Remix),
Rocco's 'Memories',
Laid's 'Punch Up (Marlon D's Rmx) and Paolo Rocco's 'Yellow Brick Road' (to be released on Deeper Shades Recordings).
The real madness began once I was done with my set. First, EVERYONE was asking me to get one of the DSOH shirts. I hadn't brought any since we're still figuring out the best way to get them out to the people. Once I know where and how you can get them (besides ordering from this site of course), I'll post it on the site and my Facebook fan page.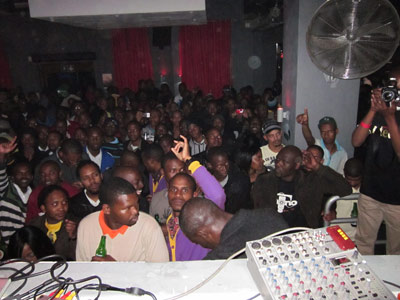 Second, EVERYONE wanted to say hello and take a picture. I've met people who are passionate about Deep House before but Pretoria is a different world. People wanted pictures but also had so many questions about what I do, my show, Deep House, other DJs and so forth. A lof of genuine interest and curiosity. This basically sums up the rest of my night. Walking around only to be stopped every two steps to be asked for pictures and more. A LOT OF LOVE.
I was able to catch the end of Halo's set who had the outside floor packed and crazy for him just as much and of course parts of Ralf Gum's set who followed me inside. People truly loved the entire night and all DJs delivered as expected.
After we picked up some Lebanese chicken and salad we finally made it back to the hotel and I was asleep by 7.30am :)
Sunday was spent in a VERY lazy manner. Slept until 4.30 in the afternoon, chilled out, went to dinner and now are back in the hotel to finish and prepare some things for tomorrow's opening of the SAMC. You can check out the program for the SAMC right here.

I'm excited to see what the conference and the rest of the week have to offer and will update you all tomorrow night with another post.