Lars Behrenroth - More Than A Nuance EP - UNKNOWN season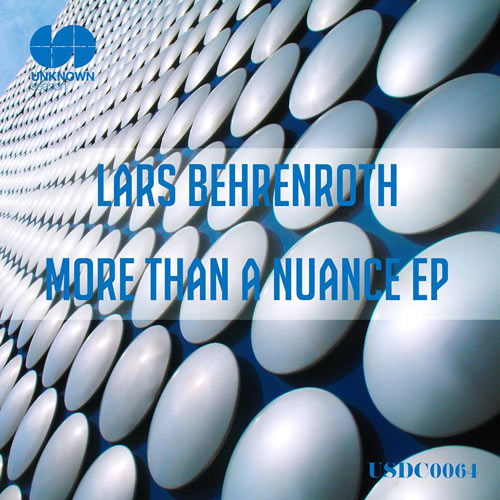 Lars Behrenroth
More Than A Nuance EP
UNKNOWN Season
Catalog Number: USDC0064

Release Date: September 6th 2016



We are honored to present the UNKNOWN season release "More Than A Nuance EP" by Deep House music ambassador Lars Behrenroth.

He is running the world famous weekly radio show "Deeper Shades Of House" as well as his own label Deeper Shades Recordings and has released on labels like Freerange Records, liebe*detail, Compost, Batti Batti and various others. Lars has also remixed Beyonce, Black Coffee, Robert Owens, Q-Burns, Lady Alma, MJ Cole, Hideo Kobayashi, Lee John, Atjazz and many more artists.
"Thunderstorm" is deep atmospheric and hypnotic tech house which during peak time will suit a dark room and flashing lights. The grooving bass and subtle African percussion are functioning well in the track.
"Fah Dae Jae" has jazzy elements and feels like a mid 90s deep house track.
"The Box" is a track that takes you deeper and deeper, almost as if you were inside a dream. Perfect for late night and after-hours.
The closing track "Obvious" is a impressive melodic synthesizer tune reminiscent of a mix between mid 90s deep techno and progressive house.


SELECTED FEEDBACK:

Osunlade "the rhythm!"

Nick Holder "FIRE!"

Werner Niedermeier "Cool EP. Thunderstorm is favorite!"

Jepe "Thank you for sending. Thunderstorm is lovely! will play this."

I-Robots "Thunderstorm for me. I-Robots approved!"

Marcus Wagner-Lapierre (Radio FM4) "Great, deep tracks! Quality music"

Alexander Filimonov (KissFM) "Nice work, thanks!"

Asia Music (record label/radio show) "I give six stars for this even more"

Magazine - Posivision "Fantastic work. Thunderstorm for me."

Magazine - Tsugi Mag "Thunderstorm for me"

Radio - Altroverso (DJ Misk) "Playlist and support in altroverso"

Radio - Diversions, CHRY.FM Toronto "Like the deep and nuanced sounds of The Box!"

Radio - NOICE! - Harry Ruffner "Great Production from Lars the Legend. well done"

Radio - The Freaks Radio Show (Greece) "Great ep once again by Lars. Great work at all"

Radio - Triangle Fm // Laurent N. "4 good tracks for me with a top The Box track! Will play & FULL SUPPORT!"



1. Lars Behrenroth - Thunderstorm
2. Lars Behrenroth - Fah Dae Jae
3. Lars Behrenroth - The Box
4. Lars Behrenroth - Obvious

Written & produced by Lars Behrenroth
mastered by Satoshi Fumi

(P) & © 2016 UNKNOWN season