Lars Behrenroth - Armistice EP Vol2 - Progcity Deep Trax, Germany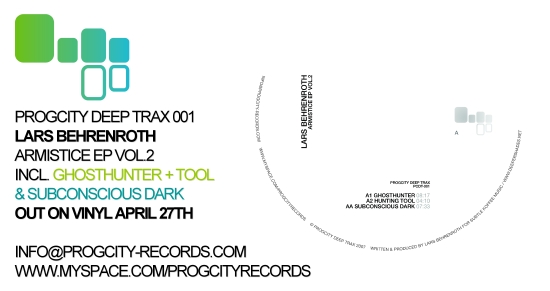 LARS BEHRENROTH - ARMISTICE EP VOL. 2 - PROGCITY DEEP TRAX (PCDT-001)
PRELISTEN & PURCHASE
A1 - Ghosthunter ||| A2 - Hunting Tool
AA - Subconscious Dark
From the label:
We are very proud to announce our new tracky imprint called PROGCITY DEEP TRAX.
The label-name itself defines what it stands for and what you can expect in near future...
Strictly
LIMITED VINYL
(500 copies)
Feedback, Charts, Play by:



Ripperton
The Ghosthunter is fukkking massive! Will play!
Karizma
Been bangin the Ghosthunter
Osunlade (Yoruba Records)
Deep, minimal and just right for that transitional moment during any set!
Alex Attias (Visions Records / Co-Op / Still Music)
Good dark release for playing in a club. I'm diggin all tracks so it's a YES. I will play and I'm feeling this EP. Well Done. Keep groovin!
Tony Humphries
The Hunting Tool
[
tonyrecords.net
]
Sean Smith (Smooth Agent Records)
I am feeling the tracks. The one I like the most is Subconcious Dark. The tracks are different than the norm and that is a good thing. Definitly playing these out.
Boddhi Satva (Yoruba Records)
Massive support for this massive piece. I wish you guys a lot of sales with it.
Florian Meindl (Flash / Klingklong / Greatstuff)
Ghosthunter is veeery nice! i play it....
Tony Garvey (Defected)
Just wanted to drop you a line to say I got a couple of your
tracks from Prog City, I love em bro, big respect.
Neil Aline (CHEZ Music)
I'm playing the hell out of Ghosthunter right now!
Manuel Tur (Freerange)
Gut gemacht, das epische Ghosthunter duerfte im Club perfekt funktionieren, wie bei seiner letzten PCDM gefaellt mir hier aber auch die B-Seite besser - trotz boellerndem Bass enorm groovy und flie?end.. wird definitiv gespielt!
Dean Serafini (Jjazzproject)
Deep, dark atmospheric moods and strong beats are the order of the day on this EP from Lars Behrenroth. Both tracks are synth led: whilst 'Subconscious Dark' is pretty much a mood builder, 'Ghosthunter' is absolutely striking. The haunting synths give the track a distinct vibe that really hits the spot. It?s not what I normally go for but this has certainly got my attention big style.
Tim White (House Afrika)
Lovely Tunes. Will be dropping them for sure!
Ryan McAdam (Iwanai Music)
I especially like Subconscious Dark! Ghost Hunter is on John Kumahara's Iwanai Music April Mix right here…
[
archives.soulstreamnetworks.net
]
Chris Udoh
WICKED !!!!
Nomumbah (Yoruba Records, Brazil)
The EP is great
Soul Oasis (CyberJamz)
Lars by puttin it down!
Gez O'Neill
Fairplay Lars Behrenroth has been putting out some lovely tunes recently, love Subconcious Dark sounds like a techier version of Son of Raw. Very nice indeed.
Mirko Paoloni (Party Groove Radio)
Great production. Straight into our clubology house charts.
DS Inc
A Lars Behrenroth trick bag synthesis, delivering a fine lift & fresh breath to prog., from a trainspoter crowd to a radio show, it's a true weapon.
Moncef
"Ghosthunter" is my favorite on this EP. You can hear more of it on this mix: [
www.daliciousmonster.com
]
Nico Moss (CyberJamz)
Dope Record !!
Greg Fenton
Liked the Subconscious Dark best 8/10
Linus (EXUN)
Love the Ghosthunter track! Thanks for the deep shit…
Agent Greg (Freeze Magazine)
Great EP, both tracks have a good feel of deep and tech sounds!
Dean Facer
I like "Subconcious Dark" and played it on last weeks show
Mazi (Gourmet / Brique Rouge)
Thanks for this. Ghosthunter is a beautiful track. I am including in my May chart going out to the magazines and full support in the clubs and on my radio shows. Great stuff.
Djinxx aka Electronic Resistance (Mezzotinto / Fcom)
[
blog.myspace.com
]
Michael Stukes (Mystic Vybes Playlist 4.24.07 / WHCR.ORG)
Subconscious Dark
Played by
Atjazz (Mantis), Halo (City Deep), Cory (Centric Music), Edground (Grooveland), Rocco (Buzzin Fly), Myles (Naked Soul), DJ Pope (POJI), Euphonic (Soul Candi), Freddy Turner (NYC), Matthew Bandy, DJ B (Zouk Club), DJ Floy (Paradise Garage Radio Show), Scope (Urbantorque) and many more...