DSOH #481 - guestmix by FUNK DEEPSTAR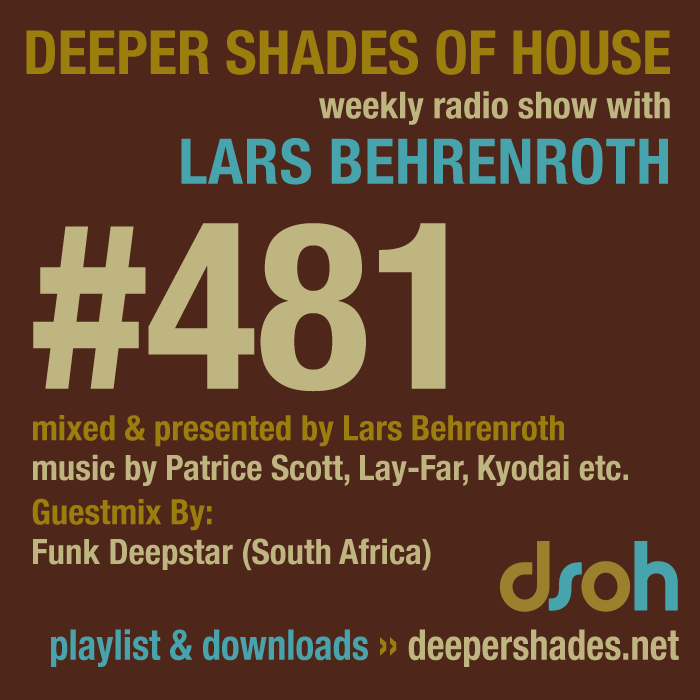 Download Part 1
Download Part 2
1st hour
mixed & presented by Lars Behrenroth

artist - title - label
DJ Funky T - Shady Worms (DJ Aakmael Remix) - Deeper Shades Recordings
Patrice Scott - Music Therapy Pt.2 (Euphonium, The Album) - Sistrum Recordings
Lay-Far - Can't Deny (Phil Asher Extended Mix) (So Many Ways Remixed Part 3) - In-Beat-Ween Music
Benedikt Frey ft. jonas.san - Girl From Venus - Batti Batti
St. Plomb - In The Meantime (Washerman Remix) - Nice Try Records
Florian Rietze - Nightdrive - URS Records
Shades Of Gray - Beer Is The New Milk - Kaato Music
The Revenge - Just One Touch (Love That Will Not Die Album) - Roar Groove
Kyodai - Palma (Original Mix) - OFF Recordings
Cazuma & Andreas - Sleepscope - ARCo.

2nd hour
Exclusive guest mix by FUNK DEEPSTAR (South Africa)
artist - title
1. Sandman, Riverside, Jeremy Ellis, Ayro - Into Your Story (Into Your Story Kai Alce DISTINCTIVE Remix)
2. Scott Diaz - Take a chance
3. John Lundun ft Rhema Osborne - Love Rain (The Octave Remix)
4. D. General - The Dark Mist
5. Nico & Vinz - Am I Wrong (KidzBlock Version)
6. Roque - Redemption jazz
7. Miguel Migs, Meshell Ndegeocello - What Do You Want
8. Madben - Dawn (Feat. N'zeng) (Terrence Parker Remix)
9. Lilac Jeans, LaVeda - hand and glove
10. Oral Deep - Sound Of Freedom (Original Mix)
Deeper Shades of House is a 100% listener supported deep house radio show.
We need your help to keep it going and pay for all related costs.
Please consider becoming a Premium member and gain access to exclusive mixes and shows!
Go Premium And Support Deeper Shades Of House


Tags: South African Guest DJs