DSOH #475 - guestmix by DEEP88
Thank you for rating this article.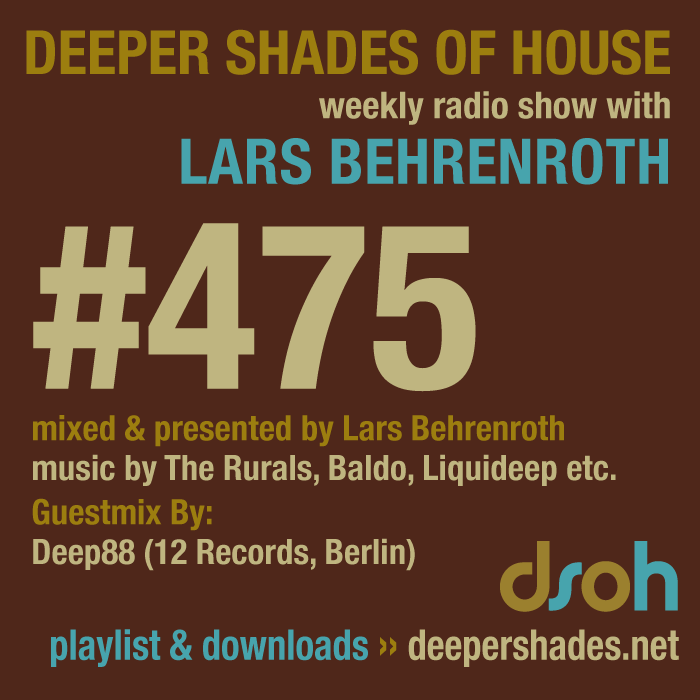 EXECUTIVE PRODUCER FOR DEEPER SHADES OF HOUSE EPISODE #475:
Stephen Thomas - find out how to become Executive Producer

Download Part 1
Download Part 2
1st hour
mixed & presented by Lars Behrenroth

artist - title - label
The Rurals feat. Rogiers - One More Day - Peng Records
QB Smith feat. Lady Alma & Kabomo - Khanya (The Light-Ode to Dilla) QB's Fantastic Vox - Warm Days
Baldo - Animals (Original Mix) - Neovinyl Recordings
Sonarpilot - Snakes & Ladder (Pascal Morais Remix) - Sonarpilot Audio
Eric Mark - Zundfunk (Notch Komplex Remix) - Tactal Hots Music
Michael Ashe - Mind Perplexed - Crevasse Records
Gumz - African Space (Original Mix) - Broadcite Music Ltd
Liquideep - You We I (Kaytronik I Kant Dub) - Mentalwave
Lars Behrenroth - Keep On feat. Chezere (Deeper Shades EP Volume 2) - Deeper Shades Recordings
Nick Holder - Angel - DNH Records
Kiko Navarro - Nea Kameni (GU's Chord Mix) - Local Talk Records

2nd hour
Exclusive guest mix by Deep88 (12 Records, Berlin)

artist - title
Optik - Illusions
Vincent Floyd - Your Eyes
Deep88 & Melchior Sultana - Chicago
Lovechild - Sweet Ambience
Helen Sharpe - Got To Have Your Love
Urban Chase - Living Strong
Ralphie Rosario - You Used To Hold Me
Jesse Sanders - On And On
Manuel Gottsching - E2 E4
Nu Mood Orchestra - Rain
LHAS - Within Without
Bodytalk - Met U At The Do
White - White
Deeper Shades of House is a 100% listener supported deep house radio show.
We need your help to keep it going and pay for all related costs.
Please consider becoming a Premium member and gain access to exclusive mixes and shows!
Go Premium And Support Deeper Shades Of House