DSOH #474 - guestmix by DJ ALA
Thank you for rating this article.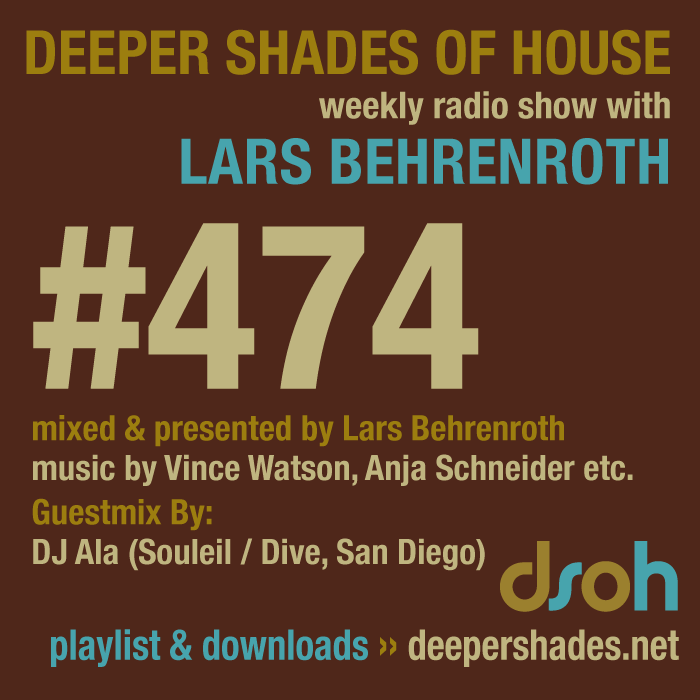 Download Part 1
Download Part 2
1st hour
mixed & presented by Lars Behrenroth

artist - title - label
Andy Hart - Merkin (La Meme Pour Moi EP) - Heist Recordings
Sunner Soul - Heaven Rhodes (Original Mix) - Editorial
Markus Quittner - Delighted (Original Mix) - Hoover the House Records
Vince Watson - Calypso - Yoruba Rec
Anja Schneider - Lovetube Thinking (Re.You Remix) - Mobilee
Levon Vincent - Woman Is An Angel - Novel Sound
C-Major (SA) feat. Sky P - Have You Heard (Main Mix) - Atal Music
Bred For Pleasure - Better Than This (Mr. Fingers Dub) - Lower East
Kito Jempere - Do You Know Me (Roberto Rodriguez Remix) - Dirt Crew
Revue & Ftba - Chicago (Mephia Re-Interpretation) - Society 3.0

JOIN US FOR THE 3RD ANNUAL SOULEIL MIAMI


2nd hour
Exclusive guest mix by DJ Ala (Souleil / Dive, San Diego)

artist - title
Da Capo ft Clara Hill - "Inner Light"
Jazzuelle - "Dark Arts"
Phonique ft Ian Whitelaw - "Our Time Our Chance" (Andre Lodemann mix)
House Victims - "Amen for 8 Years Prayers" (EmoBoys mix)
Moderat - "Bad Kingdom" (Head High mix)
Hyenah - "The Chase"
Jackie Queens - "Conqueror" (Enoo Napa Opaque Mix)
Culoe de Song - "Y.O.U.D."
Melissa B - "Be Free" (Timmy Regisford & Adam Rios mix)
Moon Rocket - "Slave To Time"
Culoe de Song ft Thandiswa Mazwai - "Nguwe Lo"
DJ Hula Mahone - "Free" (Hula's mix)
Deeper Shades of House is a 100% listener supported deep house radio show.
We need your help to keep it going and pay for all related costs.
Please consider becoming a Premium member and gain access to exclusive mixes and shows!
Go Premium And Support Deeper Shades Of House