DSOH #453 - guestmix by UNI DGEOFF
Thank you for rating this article.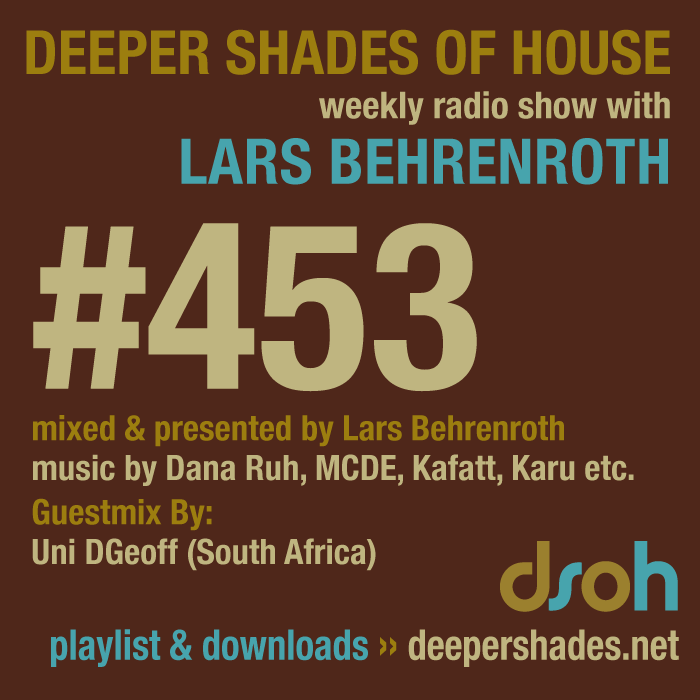 Download Part 1
Download Part 2
1st hour
mixed & presented by Lars Behrenroth

artist - title - label
Dana Ruh - Dirty Egg (Naturally Album) - Underground Quality
Motor City Drum Ensemble - Raw Cuts (Marcellus Pittman Remix) - MCDE
Tiedmann - Deap Deel (Kley Remix) - Kolour Recordings
Kafatt - Synths & Steamed Rice (Dino Lenny Goes Deep Mix) - Science Music
Heavyhandz - Light Is New - Deeper Shades Recordings
Umoja - Ghana Hima (DeejayKul meets Soultechnic Remix) - Vida Records
Jon Delirious - Bended (with Matt Caine) - Nordic Trax
Frits Wentink - Ligament - Heist Recordings
Karu - Patriot Soul - Smooth Agent Tracks
Aaron - What I Got - O*RS

only on Ustream Video:
Deepkidd - Relax (Deepkidz House Factory) - DNH Records
2nd hour
Exclusive guest mix by UNI DGEOFF (South Africa)

artist - title - label
Brad P - Don't You Know - Inner Shift Music
Frederick - The Blackness - Fifty Fathoms Deep
Doyeq - R24(Original Mix) - Deeplimit
King & Johnston - Afterhours(Original Mix) - Underground Source records
Alix Alvarez - Kali(Original Mix) - Endless
DJ Tennis - Floating Boy(Self Portrait) (Original Mix) - Life And Death
Taron-Trekka - Magnetic(Original Mix) - Freude Am Tanzen
Jack Zwarts - Concrete Jungle(Original Mix) - Deep Sense Records
Oskar Offermann - So CLose - White Music
Deeper Shades of House is a 100% listener supported program
We need your help to keep it going and pay for all related costs.
Please consider becoming a
Premium member
and gain access to exclusive mixes and shows!
Go Premium And Support Deeper Shades Of House