DSOH #445 - guestmix by JAZZMAN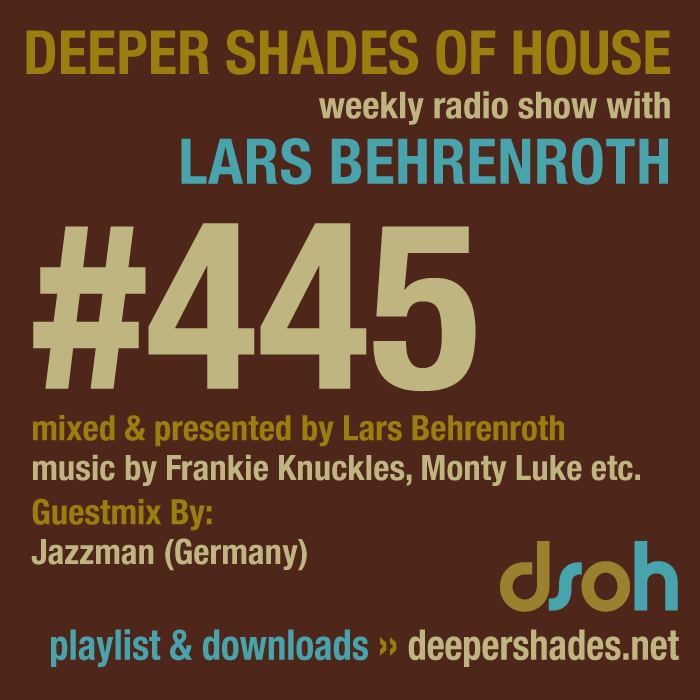 Download Part 1
Download Part 2
EXECUTIVE PRODUCER FOR DEEPER SHADES OF HOUSE EPISODE #445:
Igal Shermister - find out how to become Executive Producer


1st hour
mixed & presented by
Lars Behrenroth
artist - title - label
Frankie Knuckes - The Whistle Song - Virgin Records 1991
Deejay Kul - Feeling Good (Classic Love Deep Mix) - Local Talk
Franc Spangler - Painted Lady - Delusions Of Grandeur
Lorenzo Kurizu - Lauwerecht - Neovinyl Rec
Sascha Dive - Phantom (Dark Shadow Album) - Deep Vibes
Sandman & Riverside feat. Jeremy Ellis - Into Your Story (Kai Alce Distinctive Vocal Mix) - FFWD Rec
Raphael Saadiq - Sky (Zepherin Saint Vocal) - CDR
Monty Luke - Lonely Is The Night (Fingers Beat Mix) - Black Catalogue
Paolo Rocco - Move Body, Move Forward (Yoruba Soul Dub) - Defected
Only on Ustream Video:
DJ Djeff - Os Dois Velhos (Jose Marquez Remix) - Ocha Rec
2nd hour
Exclusive guest mix by
JAZZMAN
(Deep Inspiration Show, Germany)
# - artist - title - label
1. Chocky - Go Bananas (original) [Big Bait Records]
2. John Barera - Laying Low [Supply Records]
3. Simoncino - Jungle Dream [Mathematics]
4. Kez YM - Pebbles [Deep Explorer]
5. Graze - Skip Crush [New Kanada]
6. 2nd Avenew - It's The New (L. Heard, R. Horton, K. Holmes) (Club Mix) [Alleviated Records]
7. Jennifer Mayanja - Dark Matter [EDJ001] [Bu-Mako]
8. Awanto03 - you made me change of heart (Roman Rauch Remix) [Pusic Records]
9. Eddie Leader - Slumster [Hudd Traxx]
10. Motor City Drum Emsemble - Lovely One [2020 Vision]
11. Mr. Tophat & Art Alfie - Dusty Dub [Yunk Yard Connections]
12. Rising Sun - Promo (Whitelabel)
13. Takuya Matsumoto - Side by Slide [iero]
Deeper Shades of House is a 100% listener supported program
We need your help to keep it going and pay for all related costs.
Please consider becoming a
Premium member
and gain access to exclusive mixes and shows!
Go Premium And Support Deeper Shades Of House