DSOH #441 - guestmix by JOJOFLORES
Thank you for rating this article.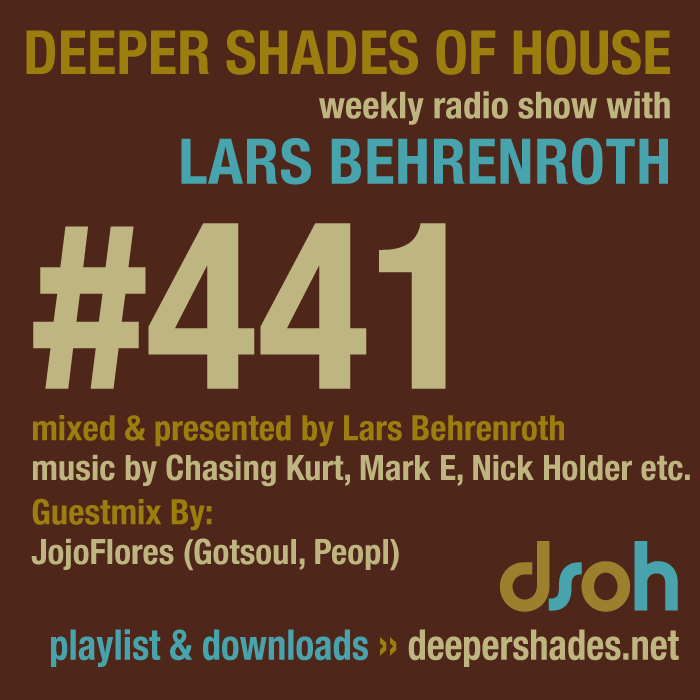 Download Part 1
Download Part 2
1st hour
mixed & presented by
Lars Behrenroth
artist - title - label
Hokuto Sato - Rhodes, 3AM (Original Mix) - Neovinyl
Chasing Kurt - From The Inside (Lovebirds Forte Piano Mix) - Defected
Nathan H - Negev - Batti Batti
Timelapse - Who Loves The Sun - Liebe*Detail
Chopstick & Johnjon - Pining Moon (Jay Shepard Guitar Mix) - Suol
Chicago Damn - Beautiful Day - Merc Rec
Ralphi Rosario - You Used To Salsa (Deep 88 Remix) - Henry Street
Tony Momrelle - What You Waitin' For (Earnshaw's Deep & Alternative Dub) - Reel People
Lars Behrenroth - Madness Last Night - Deeper Shades Recordings
Nick Holder - The Love Frequency - DNH Rec
Only on the video recording
Luke Solomon - Lost Channels (Raw & Stripped Version) - Local Talk
2nd hour
Exclusive guest mix by
JOJOFLORES
(Gotsoul Rec, Peopl - Montreal)
Recorded live at Nienkamp, Design Showroom, Toronto

sorry, no tracklist
Deeper Shades of House is a 100% listener supported program
We need your help to keep it going and pay for all related costs.
Please consider becoming a
Premium member
and gain access to exclusive mixes and shows!
Go Premium And Support Deeper Shades Of House