DSOH #438 - guestmix by SOUL CLAP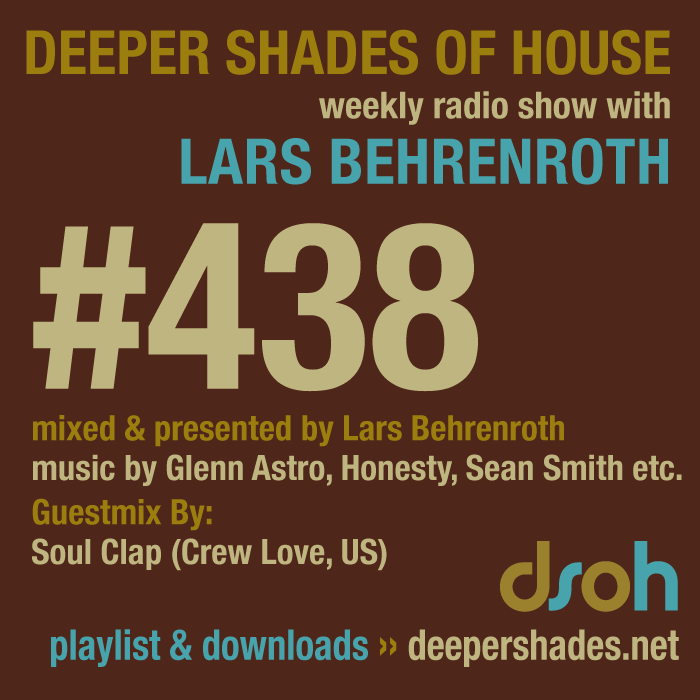 Download Part 1
Download Part 2
Check out Soul Clap at THE WARM UP, Johannesburg on March 1st 2014 1pm
1st hour
mixed & presented by
Lars Behrenroth
artist - title - label
Glenn Astro - Love Jones (Chemistry EP) - Tartelet Rec
Matthias Vogt - Something In Common (Piano Mix) - Large Music
Nuno Estevez - Music From God (Close To Me album) - Just Move Records
Frenchfire - Whowillluvu (Vidis Remix) - Biologic
Frank Hellmond - Lost (Etui Winter Camp 2) - Etui
Honesty - Big Sur (Pacific Mix) - Cabinet Records
Kresy - Last Cocktail Of Stallone - Freerange Rec
Sean Smith - Evaluation (Instrumental) - Smooth Agent Tracks
Max Graef - Itzehoe (Rivers Of The Red Planet album) - Tartelet Rec
Glenn Astro - Acid Tears (Chemistry EP) - Tartelet Rec
Dorsia - Ghana (HNNY Remix) - Loft Records
Only on Live Video:
Malcolm Moore - Way Of The City - Altered Moods Rec
2nd hour
Exclusive guest mix by
SOUL CLAP
(
Crew Love
, USA)
artist - title - label

Mind Fair - So Strong - Golf Channel
Dave Allison - Sunday Calling - Tango
Crowdpleaser - Nenekri (Multi Culti Remix) - Multi Culti
O B Ignitt - Mysterious - FXHE
GT Raulus - Flying At The Lip - Crew Love
Seven Davis Jr. - One - Must Have Records
Tweak & Tony Allen - Leroy - K7
David Marston - I Don't Want - Soul Clap Records
Nick Monaco - I Can't Breath Without You - Wolf + Lamb
Rhyze - Free (Nick Monaco's Liberation Mix) - ???
Jack Priest - Every Girl Edit - Wolf + Lamb Black
Penny Penny - Shaka Bundu - Awesome Tapes From Africa
Deeper Shades of House is a 100% listener supported program
We need your help to keep it going and pay for all related costs.
Please consider becoming a
Premium member
and gain access to exclusive mixes and shows!
Go Premium And Support Deeper Shades Of House