DSOH #437 - guestmix by 4MATIQ
Thank you for rating this article.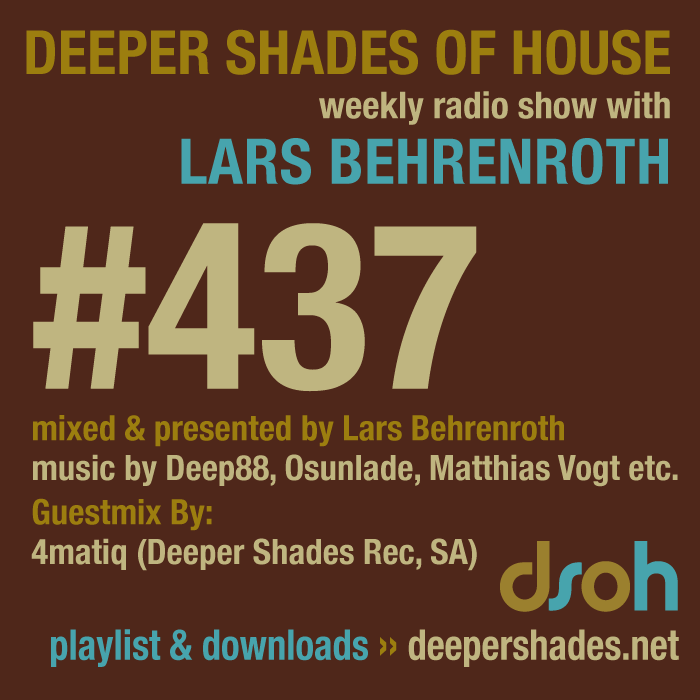 Download Part 1
Download Part 2
1st hour
mixed & presented by
Lars Behrenroth
artist - title - label
Dubson - All This Time - O*RS
Deep88 feat. Robert Owens - Believe In You - 12 Records
Oskar Offermann - 4th Dimension - White
Mr. Fingers - Can You Feel It (Jakobin & Domino's Pump Up The Jam Rework)
Osunlade - Human Beings (Isolee Remix) - Yoruba Rec
Matthias Vogt - The Wobble Track - Large Music
Stark D - San Francisco (Science Fiction 1967 Cle and Terri Mix) - Ladies & Gentlemen
Rheji Burrell - Flying High - B Wax
Max Graef - Drums Of Death (Rivers Of The Red Planet album) - Tartelet Records
Kai "KZR" Alce - On It - NDATL
Only on Live Video:
Ross Couch - Can't Deny Your Love (Booker T Remix) - Body Rhythm
2nd hour
Exclusive guest mix by
4MATIQ
(Deeper Shades Recordings / L2M Rec - South Africa)
artist - title - label

Sahin Meyer - Spread Love (Original Mix) - Sccucci Manucci
Evren Ulusoy - Deep is the new shit (Marcelo Nassi Remix) - Kommunity records
Javier Orduna ft Inigo oruezabal - scent of a woman (Gio In the future remix) - Tenor Recordings
James dexter - Forward (original mix) - Large Music
EthniqueFusion feat. LaNeo - True Love (4matiq's L2M Edit) Forthcoming L2M Records Release
The Disclosure Project - Keep Goin'(Echofusion Rebirth mix) - Kommunity records
Santiago santamaria - Jazzy J (original mix) - Elite Records
Evren Ulusoy - Muted Shades (Marcelo Nassi Remi) - Kommunity Records
HouseRidres & Maske - Testify (soul Minority Deep Mix) - Kommunity Records
4matiq - Good Things To come (The only original mix) - L2m Records
Deeper Shades of House is a 100% listener supported program
We need your help to keep it going and pay for all related costs.
Please consider becoming a
Premium member
and gain access to exclusive mixes and shows!
Go Premium And Support Deeper Shades Of House