DSOH #435 - guestmix by BRIAN BLAQ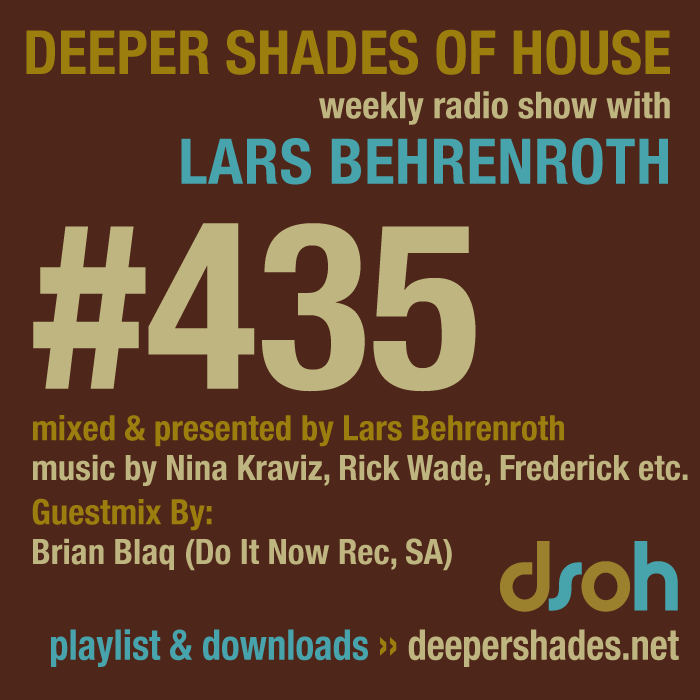 Download Part 1
Download Part 2
1st hour
mixed & presented by
Lars Behrenroth
artist - title - label
Jack The Box - The Way We Walk (Jeremiah Remix) - Mood Music
Nuno Estevez - Remember A Time - Just Move Records
Nina Kraviz - Sheer (Original Mix) (Mr. Jones Album) - Rekids
Romeo C & Alhan G - Special - Batti Batti
Larry Heard aka Looser Fingers - Flashback - Alleviated (originally Trackmode) 2005
Rick Wade - Sweet Life (Tom Taylor & Simon Morell Remix) - FINA Rec
KANT - Years (Original Mix) - Free Download
Frederick - Over You (Disruptive Pattern Material) - Fifty Fathoms Deep
WD2N feat. Christine Zadnikar - Take My Breath (Ben Weber Remix) - NiteGrooves
Till von Sein - Abaco (Da Beach Bum EP) - Suol
Only on Live Video:
Klement Bonelli feat. Robert Owens - Wild (Torre Bros Remix) - Krome Records
2nd hour
Exclusive guest mix by
BRIAN BLAQ
(Do It Now Rec / The Warm Up, South Africa)
artist - title

1. Salvatore Agrosi – Spirit (Special Edit)
2. Portofino-Sunrise – Watch The Feeling (Original Mix)
3. DJ Puk - Delivery Job (Noraj Cue Remix)
4. Andreas Bergman - Redo (Original Mix)
5. Tim Andersen – Our House (Original Mix)
6. M.A.N.D.Y. & Booka Shade – Home (Kollektiv Turmstrasse - Interstella Mix)
7. Mr Fuzz – Deep Is The Way
8. G. Theofanidis - As Night Falls (Original Mix)
9. DZETA N' Basile - Before The Mess (Karol XVII & MB Valence Remix)
10. Matthew Dekay & Lee Burridge - Holding On (Original Mix)
Deeper Shades of House is a 100% listener supported program
We need your help to keep it going and pay for all related costs.
Please consider becoming a
Premium member
and gain access to exclusive mixes and shows!
Go Premium And Support Deeper Shades Of House