DSOH #434 - guestmix by LARS VON LICHT
Thank you for rating this article.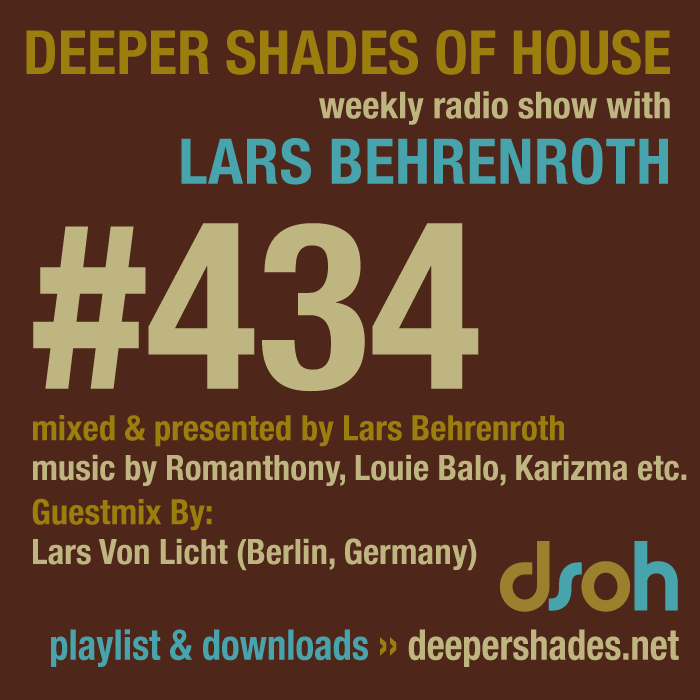 Download Part 1
Download Part 2
1st hour
mixed & presented by
Lars Behrenroth
artist - title - label
Romanthony - Trust (Motor City Drum Ensemble Deep Mix) - Glasgow Underground
Tedd Patterson - Kenny' s Dope - GFY Black
Louie Balo - Don't Shut Me Out (Plastik Cut) - Plastik People
Hans Thalau - 020.3 - Thal Communication
Blaq Soul - Vision (Karizma Eyecee Dubba) - Deeper Shades Recordings PRE-RELEASE AVAILABLE
Afefe Iku - Mpaka (Ezel Blue Spectral Remix) - Yoruba
Beebar - All In Your Mind - DM Recordings
Dimi Stuff feat. Lydia Scarfo - If It's Real (Souldynamic Dub) - Kingstreet Sounds
Nir Shoshani - Ajami (Simon Garcia Remix) - Aeon
Only on Live Video:
Giovanni Ikome & Frankie Foncett - Magic Sessions Anthem - Exemplary Music Makerz
2nd hour
Exclusive guest mix by
LARS VON LICHT
(Berlin, Germany)
artist - title

Murat Tepeli - Workinstruggling (SoulPhiction RMX)
Chasing Kurt - Money (Tom Ellis Remix)
Osunlade - Camera Shy (Andres Remix)
Nicholas - Forever Feel It (Original)
Jose M - What Are You Waching (Original Mix)
Waze&Odyssey - Please Don´t Dance (Original Mix)
James Dexter - Nothing To
Panash - Cheval (Przewalski's Eastern Bounce)
Soul 223 - Fear of Stopping
Detroit Swindle - The Make Up (Original Mix)
Map.ache - Presents Dj Mapi (Original Mix)
DJ W!ld - Disco & Shit
Deeper Shades of House is a 100% listener supported program
We need your help to keep it going and pay for all related costs.
Please consider becoming a
Premium member
and gain access to exclusive mixes and shows!
Go Premium And Support Deeper Shades Of House