DSOH #433 - guestmix by KING BAYAA
Thank you for rating this article.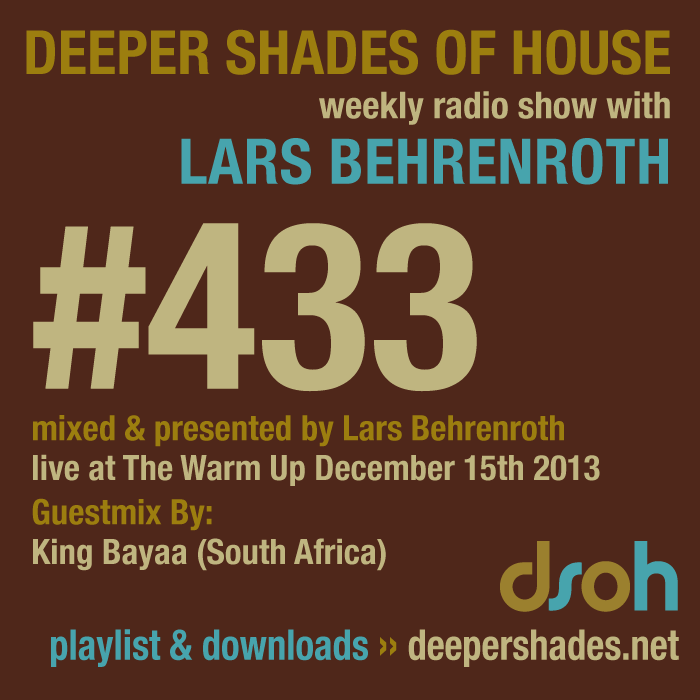 Download Part 1
Download Part 2
EXECUTIVE PRODUCER FOR DEEPER SHADES OF HOUSE EPISODE #433:
Jan Goebel - find out how to become Executive Producer


1st hour
mixed & presented by Lars Behrenroth

recorded live at The Warm Up in Johannesburg on December 15th 2013
download the entire 2 hour live set in the Premium Download Section
sorry, no tracklist
2nd hour
Exclusive guest mix by
KING BAYAA
(Deeper Shades Recordings, South Africa)
Check out his release
"Ekay Em Yawa (A Talk With My Ancestors)"
# - artist - title - label

Kid Fonque & DJ Whisky ft Zaki Ibrahim - Be (Atjazz & Jullian Gomes Remix) - Atjazz Record Company
SoulPoizen - One Eleven Ninety One (Herbs & Soul DeepTech Feel) - Herbs & Soul Music
Sir Lsg & Brian Temba & Kafele - All I Am (Sir Lsg Original Mix) - Cherry Pickers
The Layabouts feat. Portia Monique - Colors Of Love (The Layabouts Vocal - Reel people Music
Anelisa Blom - Watsh'Umama (King Baya Dark Ride Remix) - Anarchy Music Group
Guy J - Sahara (Dub Mix) - DAR
Trix, Lady Patriot - Birds Of A Feather ( Original Mix) - Kanzen Records
Roque - Spirit's Speak (Original Mix) - Segundo
King Bayaa - Ravishing - Jubilant Music
PastaBoys - Body Resonance - PMI Dance
King Bayaa - Ekat Em Yawa (A Talk With My Ancestors) (Mushroom Boyz Spiritual Mix) - Deeper Shades Recordings
Deeper Shades of House is a 100% listener supported program
We need your help to keep it going and pay for all related costs.
Please consider becoming a
Premium member
and gain access to exclusive mixes and shows!
Go Premium And Support Deeper Shades Of House