DSOH #431 - guestmix by DJ FUNKY T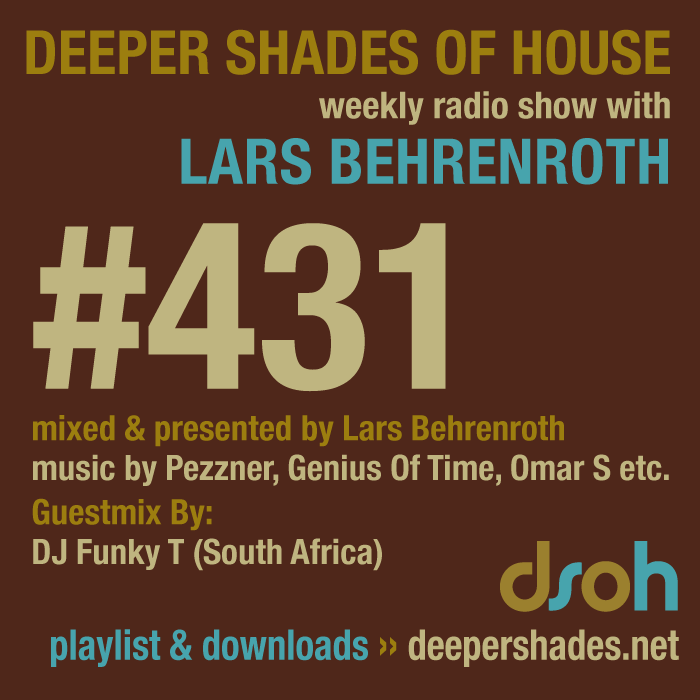 Download Part 1
Download Part 2
EXECUTIVE PRODUCER FOR DEEPER SHADES OF HOUSE EPISODE #431:
Gloria Theiler - find out how to become Executive Producer


1st hour
mixed & presented by Lars Behrenroth

artist - title - label
Pezzner - Give It Up (Last Night In Utopia Album) - Systematic
Genius Of Time - Tight Genes (Original) - Same Old Place
Makhen Gigga - Illinois (Tribe Of Superior Men) - Fomp
Tony Watson - Passages - Ibadan
Reptare - Last Snow - Cobra Voyage
The Black 80s - Go Home - Compost Black Label
Pezzner - Drop Of Fears feat. Amina (Last Night In Utopia Album) - Systematic
Redshape - Made Of Steel - Present Recordings
Omar S - Dont Let Dis Be Hapnin!! - AOS
Ustream only:
RVDS - Monday Rain - Smallville


2nd hour
Exclusive guest mix by DJ FUNKY T (Deeper Shades Recordings, South Africa)
DOWNLOAD DJ FUNKY T "SHINING DIAMONDS"
# - artist - title - label
1. The Heartbreak Kids - Waking Into A Prior Dream (RBMA)promo [redbull music academy promo
2. Dj Funky T feat. Lady Mya- Twilight Depre (Original Mix) promo [Unsigned]
3. Dj Funky T - Twilight depre m- (promo) unsigned
4. Dj Funky T - Gulumba Movement (Original Mix)promo [unsigned]
5. DJ Funky T - Shining Diamonds - Deeper Shades Recordings
6. Jacksonville - Twilight Industries (Original Mix) - Doppler Records
7.Soul Minority feat. Nathalie Claude - Always There (9Lives Crouching Remix) Kolour Recordings
8. Fred Everything - Street Luv (Original Mix) - Lazy Days Recordings
9. Dj Daniel james - from the belly of the dragon (demo mix) - Digital deep Music
10. Dj Funky T - Stress Abortion (Main mix) - promo (unreleased)
Deeper Shades of House is a 100% listener supported program
We need your help to keep it going and pay for all related costs.
Please consider becoming a
Premium member
and gain access to exclusive mixes and shows!
Go Premium And Support Deeper Shades Of House