DSOH #428 - guestmix by PETER OAKDEN
Thank you for rating this article.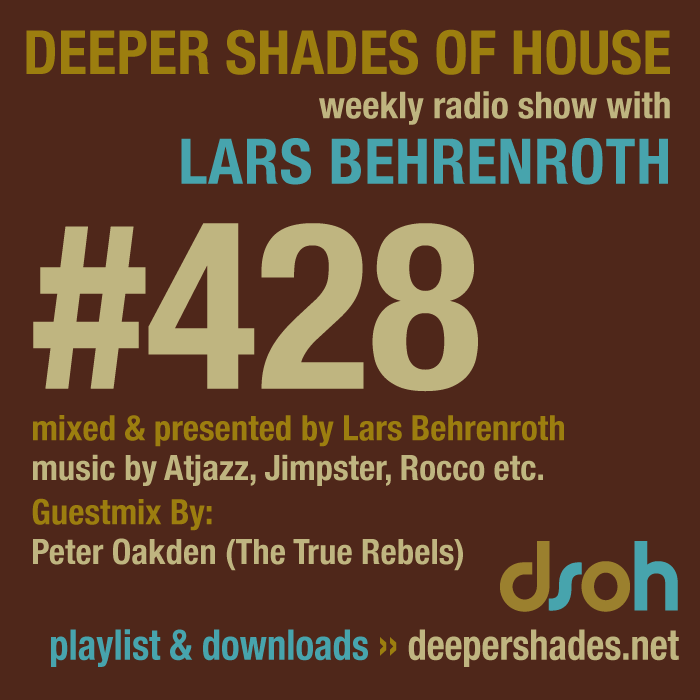 Download Part 1
Download Part 2
1st hour
mixed & presented by Lars Behrenroth
Originally aired as a guest mix on South Africa's nationwide radio show "The Urban Beat" on October 4th 2013

artist - title - label
The True Rebels - Lift It Up (Lars Behrenroth Remix) - Deeper Shades Recordings OUT NOW
Atjazz & Jullian Gomes - Breathe The Light (feat. Clive Austin) - Atjazz Record Company
Powel - Cloud City - Fina
Mute - Never - Running Back
Jimpster - Brought To Bare ft. Jonatan Bäckelie (Deetron Remix) - Freerange Rec.
Sroczynski Prus - Final Wielkiej Cioty (Lars Behrenroth Edit) - Deeper Shades Recordings
The Deep & Fred Melosax - Dom Dom Jump - BNO
Rocco - Memories (The Bridge Album) - House Afrika
Nteeze & Andy - The Melody - Deeper Shades Recordings UPCOMING
Rokia - Sabali (Little D. & Stamy Remix) - white
D-Tribe - Bang The Drum - Def Mix Music


2nd hour
Exclusive guest mix by PETER OAKDEN (The True Rebels, Fifty Fathoms Deep)

artist - title - label
Frederick - An Artists Struggle (Intro) [Fifty Fathoms Deep]
Dave Aju, The Invisible Art Trio - Look Out Above [Nuearth Kitchen]
Ugly Drums - Don't Let Life (Passing By) [Fifty Fathoms Deep]
Sven Weisemann - Tikuma [Mojuba]
Soul 223 - Fear Of Stopping [Delusions Of Grandeur]
Craig Smith - After The Storm (Demo Mix) [Unsigned]
Jimpster - Towards The Seer (Andre Lodemann Remix) [Freerange]
Ten Walls - Gotham [Innervisions]
&Me - Shallow [Keinemusik]
Midland - Realtime [Graded]

Deeper Shades of House is a 100% listener supported program
We need your help to keep it going and pay for all related costs.
Please consider becoming a
Premium member
and gain access to exclusive mixes and shows!
Go Premium And Support Deeper Shades Of House