DSOH #419 - guestmix by MICAH MCNELLY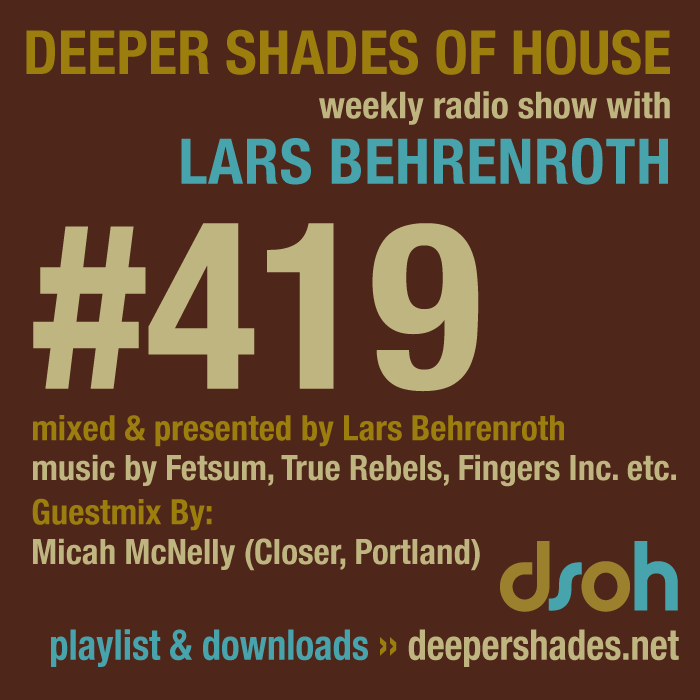 Join us on June 22nd at REFUGE in Portland

Download Part 1
Download Part 2
1st hour
mixed & presented by Lars Behrenroth

artist - title - label
YNK - The Joint - Polytone
Fetsum - Waitin' For You (Paskal & Urban Absolutes Remix) - Sonar Kollektiv
Nika Sharvadze - Triangle (Didactic Scalica Remix) - Datenbits Recordings
Johannes Albert - People Say (Strings Version) "Hotel Novalis Album" - Frank Music
Noah Pred & Pablo Bolivar - Follow The Green Light - Apparel Music
The True Rebels - Bitter Love (Original Mix) - Local Talk
CKSNL - Orlando (Ooft! Vocal Mix) - Baker Street Recordings
Rare People House Brand - Lifelike - 12 Records
Fingers Inc. - A Path - Trax
Two Armadillos - Roller Skate - Two Armadillos
Nick Holder - Forever In A Daze (Main Mix) - DNH Records
Nomumbah - Fase One - ?!

2nd hour
Exclusive guest mix by MICAH MCNELLY (Closer, Portland)
artist - title - label
Jack Dixon - Something to Do - Nude Photo Music (Unreleased)
Miles Maeda - Bell Boogie (martijn remix) - Back to the Future
Jamie Anderson / Owain K - Do you Know (Innerspace Mix) - Laka-Tosh
Scroczynks Prus - Final Wielkiej Cioty (Lars Behrenroth Re-edit)
John Tejada - Everywhere - Kompakt
Andy Ash - White Leaf (Moodymanc remix) - Fly by Night Music
The White Lamp - Make It Good (Hannes Fisher Remix) - Sonar Kollektiv
DJ Le Roi - I Wanna Go - Muak Music
Huxley - No Matter What (Moodtrap remix) - Tsuba Records
DJ Druzz Vs. Omega Mus - Apeman (Monty Luke remix)
Elliot Thomas - Sirius - Voyeurhythm


Deeper Shades of House is a 100% listener supported program
We need your help to keep it going and pay for all related costs.
Please consider becoming a
Premium member
and gain access to exclusive mixes and shows!
Become A Premium Member And Get More Music