DSOH #418 - guestmix by DJ BE
Thank you for rating this article.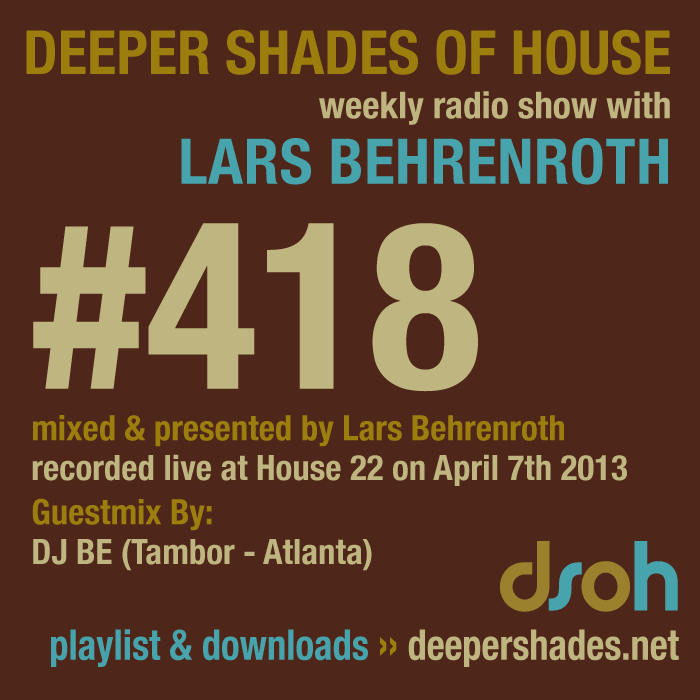 Join us on June 15th at Tambor in Atlanta
with special guest Lars Behrenroth & residents DJ BE & Stan Zeff
Download Part 1
Download Part 2
1st hour
mixed & presented by Lars Behrenroth

recorded live at House 22 - Pretoria, South Africa on April 7th 2013
sorry, no tracklist

2nd hour
Exclusive guest mix by DJ BE (Tambor, Atlanta)
# - artist - title
1.Tylo ft Nokwazi – Searchin (Main Mix)
2.Chi-Profess ft Kweitha Bolden – We Are Black Love (Me Do Wo)
3.DJ Zinhle – My Name Is (alpha & Olmega Drum Arena Rmx)
4.Key Snow ft. Morzaaq Def Village – Mosadi Waka
5.DJ Muzi.GP ft Mr Ntatshana – Umalume (Orig)
6.Quentin Harris ft. Cordell McClary – Travelling
7.Nativeroots ft. Zano – Taking Over the World (McCabe Overdub Mix)
8.Steven Stone & Wendy Lewis – New Lady (N'Dinga Gaba Rmx)
9.Nkokhi ft Sphelele – Travelling Man (Gordheaven & Julio Mothaland Rmx)
10.DJ Tumza ft Sizwe Zulu – Summer Rain (Main Mix)
11.Smartology – The Legendary (DJ Smart Mix)
12.Bongoloverz – Power of Music (Accapella)
13.Black Motion ft Soulflow – Mumi Wango (Manoo Afro Mix)


Deeper Shades of House is a 100% listener supported program
We need your help to keep it going and pay for all related costs.
Please consider becoming a
Premium member
and gain access to exclusive mixes and shows!
Become A Premium Member And Get More Music