DSOH #417 - guestmix by TOMMY BONES
Thank you for rating this article.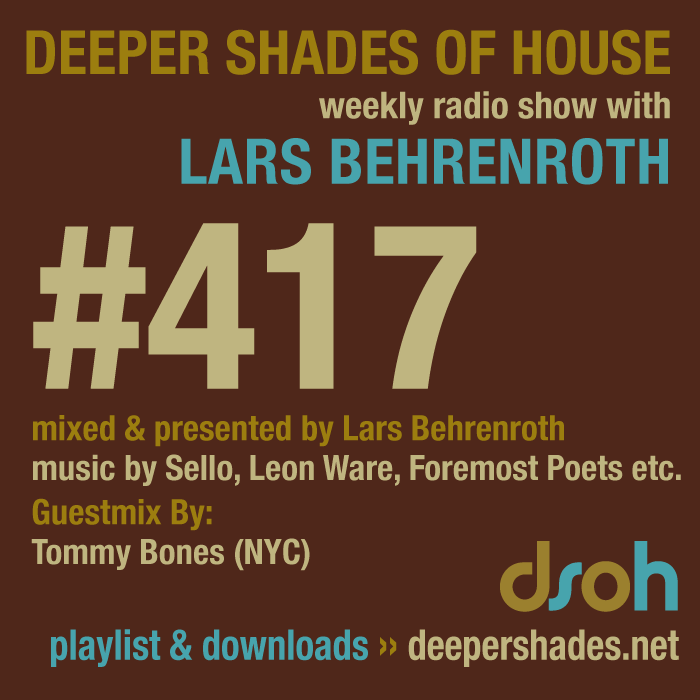 Download Part 1
Download Part 2
1st hour
mixed & presented by Lars Behrenroth

artist - title - label
Garnica - Getting (Massimiliano Pagliara remix) - Galaktika Records
Sello - Touch The Difference (Original Mix) - Neovinyl
Deep88 & Melchior Sultana - Nightwave - 12Records
Leon Ware - Work Me (Reel People Remix) - Expansion
AKRA - TunnelVision (Iron Curtis Chant Mix) - Teng
Foremost Poets - Reasons To Be Dismal? (Motorcitysoul Remix) - Poker Flat
Pepe Bradock - Lifting Weights (Original Mix) - Absurd Recordings
Grey Area - Bird Hause (Original Mix) - ?
DJ Leon El Ray present Chris Deepak - For All The Things We Love (Eddhi Cheq Heartistic Mwango Mix) SoulDeep Inc. Recordss
Only on archived Ustream video:
Nteeze & Andy - The Melody - Deeper Shades Recordings

2nd hour
Exclusive guest mix by TOMMY BONES (Wonderwax / Lion1Music, NYC) - Facebook
artist - title - label
Ny*ak - Mahna - Paper
Dan Mela - I Don't Know Why (Nothing's Gonna Change) (Original Mix) - What Ever Not
Holger Zilske - To Them To Me (Vincenzo's Teardrop Remix - Playhouse
Jovonn - A Definition Of A Track (Original Mix) - Late Night Audio
John Talabot feat. Pional - So Will Be Now… - Permanent Vacation
DeepCitySoul, DJ Romain - NY 2 UK (James Dexter Mix) - Solid Ground Recordings
Flashmob, Laila Walker - Pieces feat. Laila Walker (Garage Mix) - Defected
Kort - No Fear (Original Mix) - Copyright Recordings
Robosonic - Worst Love (Fritz Zander Remix) - Off Recordings
Deux Tigres - Dragonfly (Original Mix) - Moodmusic
Cherie Lee - Love Me Or Leave Me (Oliver $ Remix) - ITH (Defected In The House)
Rachel Row - Follow the Step (Kink Beat Mix) - Pets Recordings
Evan Iff - Sunlight (Original Mix) - Something Different Records
Storm Queen - Look Right Through (MK Dub III) - ITH (Defected In The House)


Deeper Shades of House is a 100% listener supported program
We need your help to keep it going and pay for all related costs.
Please consider becoming a
Premium member
and gain access to exclusive mixes and shows!
Become A Premium Member And Get More Music