DSOH #416 - guestmix by JOONYA T
Thank you for rating this article.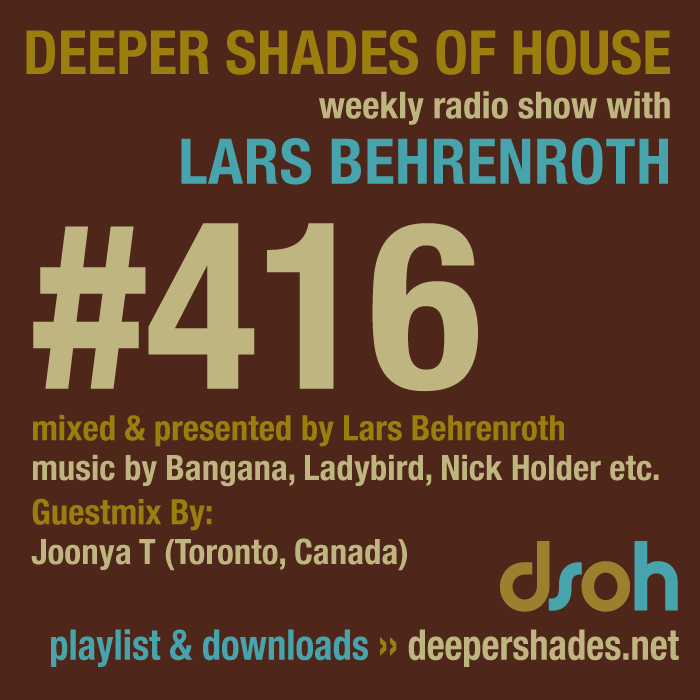 Download Part 1
Download Part 2
EXECUTIVE PRODUCER FOR DEEPER SHADES OF HOUSE EPISODE #416:
Ron Jeanniton
-
find out how to become Executive Producer
1st hour
mixed & presented by Lars Behrenroth

artist - title - label
Insect O. - Sands Of Rainbow - Etui Ltd
Kurt Baggaley - Line of Sight (Original Mix) - Stem Records
Bangana - Skrik - Heya Hifi
Musumeci - Blue - Batti Batti
Joe Drive - Amnios (Keith Worthy's worthyisdeep Remix) - Aesthetic Audio
Dudley Strangeways - Flourish - Holic Trax
Ladybird - Shine (Kai KZR Alce's Detroit Deep Dub) - Peng Rec
Nick Holder - Love em, Leave em (Original) - DNH Rec
Meterius Johnson - Love Town feat. Memphis (Ekkohaus Remix) - Neovinyl Records
Peven Everett - Taking Me Back - Makin' Moves Records
Only on archived YouTube video:
Finest Wear - The Storm - ???

Please join us May 31st 10pm for FRESCO @ B1 Lounge in Toronto, Canada
with special guest Lars Behrenroth plus Guerilla Science, Joonya T & Alvaro Gonzalez
more info

2nd hour
Exclusive guest mix by JOONYA T (Joonya T, Toronto, Canada)
artist - title - label
Nick Curly - Piano In The Dark - Defected
Karizma Feat. Flako - Lonely Town (K2 Redit) - Promo CDR
Boddhi Satva Feat. Oumou Sangar - Ngnari Konon (Manoo's Maff Mix) - BBE
Sunshine Jones - Four Million Miles (Rancido's Soul Odyssey Remix) - Nite Grooves
Da Capo - Should Have Told - DNH
M60 - Time Is Now (Those Boys Remix) - Do It Now Recordings
Admin - For Junior - Chasing Unicorns
Stefano Ritteri - Nothing Stays The Same - Defected
EnaWadan - Forever (Atjazz Astro Remix) - Ocha
SBTRKT Feat. Sampha - Hold On (Pascal Morais' Afro Edit) - Promo CDR
SoulTonic - Peaceful Blessings (Ohk Ost Bang The Drum Mix) - Candi Bean Records


Deeper Shades of House is a 100% listener supported program
We need your help to keep it going and pay for all related costs.
Please consider becoming a
Premium member
and gain access to exclusive mixes and shows!
Become A Premium Member And Get More Music