DSOH #409 - guestmix by ED ABISADA
Thank you for rating this article.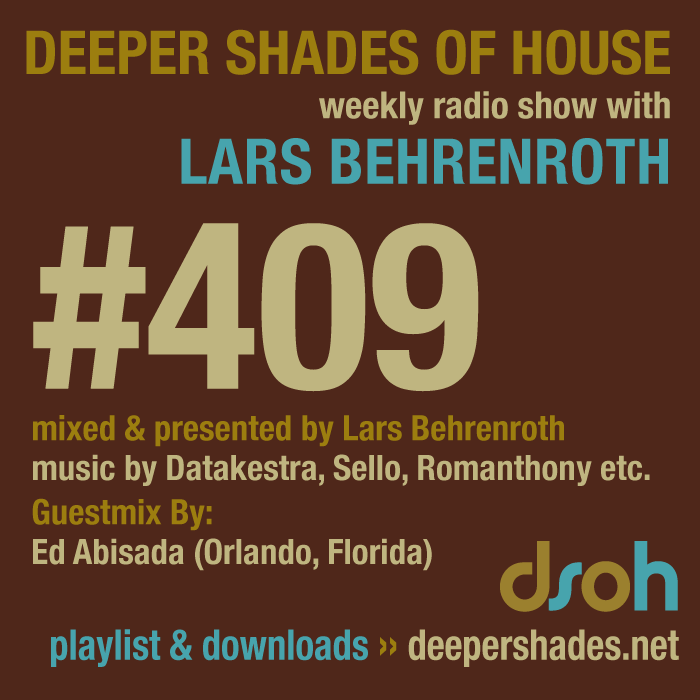 Download Part 1
Download Part 2
EXECUTIVE PRODUCER FOR DEEPER SHADES OF HOUSE EPISODE #409:
Chris Cline
-
find out how to become Executive Producer
1st hour
mixed & presented by Lars Behrenroth

artist - title - label
Mario Basanov feat Jeremy Glenn - More for The Less (Pablo Bolivar & Maurice Aymard remix) - Apersonal
Giovanni Damico - Cry wall - Black Key Records
Paskal & Urban Absolutes - Lichtenberg - Quintessentials
Raffaele Attanasio - X-501.8 - 3rd Wave
Datakestra - Before - Unknown Season
Sello - I Got Love (Original Mix) - Neovinyl Recordings
Milton Jackson - Don't Worry About The Drums - Dark Energy
Colman Buckley - No Dice - One Offs
Romanthony - Let Me Show You Love (Gerd's Crooklyn Full Vox Mix) - Glasgow Underground
Oranzio Fantini - The Music (Kindimmers Moody Remix) - Deep Series

Only On The Video Live Mix:
Somon Ferdinand - Summerblues - Night Drive Music
Marco Nega - Tribes Of Morgana Reproduction - Bu Mako


2nd hour
Exclusive guest mix by ED ABISADA (Orlando, Florida)

# - artist - title
1- Urban Sound Lab feat. Naki Akrobettoe - Fly High (Marlon D's Never Cease To Pray Deep Mix)
2- Jimpster - Dangly Panther (Original Mix)
3- Groove Assassin, Sean McCabe - Got Me Down (Original Mix)
4- DJ Steaw - I Want (Original Mix)
5- Milton Jackson - Prototypes
6- Shlomi Aber - Foolish Games Feat Moggli (Original Mix)
7- Jimpster feat. Simon Jinadu - These Times (Dixon's Retouch)
8- Djeff, Sandy Spady - One Night Baby (Black Motion Remix)
9- Andrea Oliva - Piano Piano (Original Mix)
10- Ziggy Funk, Taliwa - Everyday (Frankie Feliciano Classic Vocal Mix)
11- Husky - Brighton Boogie
Deeper Shades of House is a 100% listener supported program
We need your help to keep it going and pay for all related costs.
Please consider becoming a
Premium member
and gain access to exclusive mixes and shows!
Become A Premium Member And Get More Music