DSOH #408 - guestmix by SEF KOMBO
Thank you for rating this article.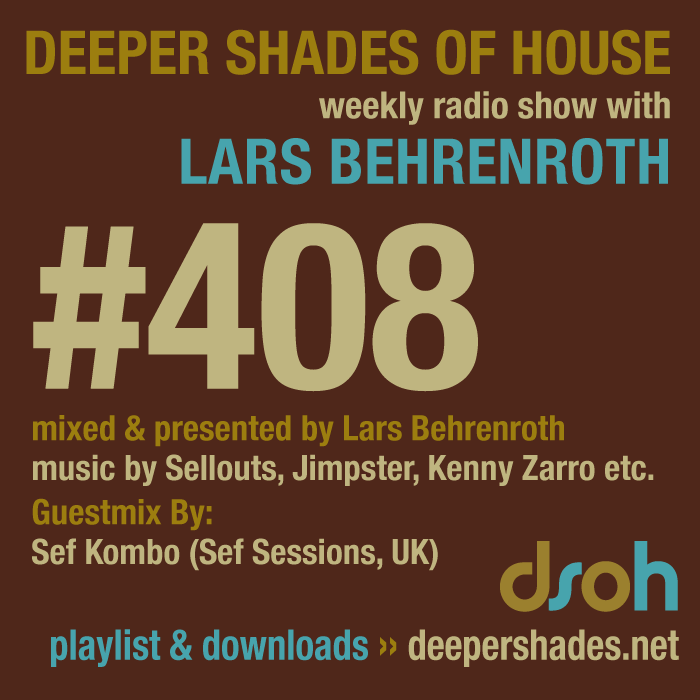 Download Part 1
Download Part 2
EXECUTIVE PRODUCER FOR DEEPER SHADES OF HOUSE EPISODE #408:
Winston & Harrison
-
find out how to become Executive Producer
1st hour
mixed & presented by Lars Behrenroth

artist - title - label
Anerah Yasole ft. Gomolemo - Fazer Amor (Lars Behrenroth Dub) - Offering Rec ### EXCLUSIVE
Nick Curly - Piano In The Dark (Yoruba Soul Remix) - Defected
Luka ft Mz Jay - The World Keeps Turning (DJ Tipz Remix) 1
DJ Embassy - Inside The Space (Lars Behrenroth presents Various Shades Volume 3) - Deeper Shades Recordings
Sellouts - The 9th Intervention (Long Time Coming EP) - Deeper Shades Recordings DSOH035 ### EXCLUSIVE
Kafele ft. Eliki - Secret (Yotam Avni Rmx) - Ocha Records
Alex Niggemann - Lovers feat. John Rydell (Andre Lodemann rmx) - Pokerflat
Hood Natives - Imvubu - Fomp
Jimpster - These Times ft. Jinadu (Dixon Refix) - Freerange Rec
Kenny Zarro - Tool 122 (Deep Abyss EP) - Deeper Shades Recordings DSOH034 ### EXCLUSIVE


2nd hour
Exclusive guest mix by SEF KOMBO (Sef Sessions, UK)

# - artist - title - label
Eman & Doc Link - Solid Ground (James Dexter Mix) - Solid Ground Recordings
Jimpster - Dangly Panther - Freerange Records
Andre Lodemann - Where Are You Now? (Jimpster Remix) - Best Works Records
Jay Bliss - Time Travelling - 2020Vision
The Lamberti Boyz - Dreams of Love - DM Recordings
Urban Sound Lab ft. Naki Akrobettoe - Fly High (Marlon D's Never Cease To Pray Deep Mix) - Room Control
Kimara Lovelace - Far Away (Hideo Kobayashi Dub) - King Street
Tucillo - Karimba - 2020Vision
Kemal - I Surrender (Dub Mix) - Purple Music
Kellerkind - Just Me - Sirion Records
Deeper Shades of House is a 100% listener supported program
We need your help to keep it going and pay for all related costs.
Please consider becoming a
Premium member
and gain access to exclusive mixes and shows!
Become A Premium Member And Get More Music