DSOH #398 - guestmix by KAYGEE PITSONG
Thank you for rating this article.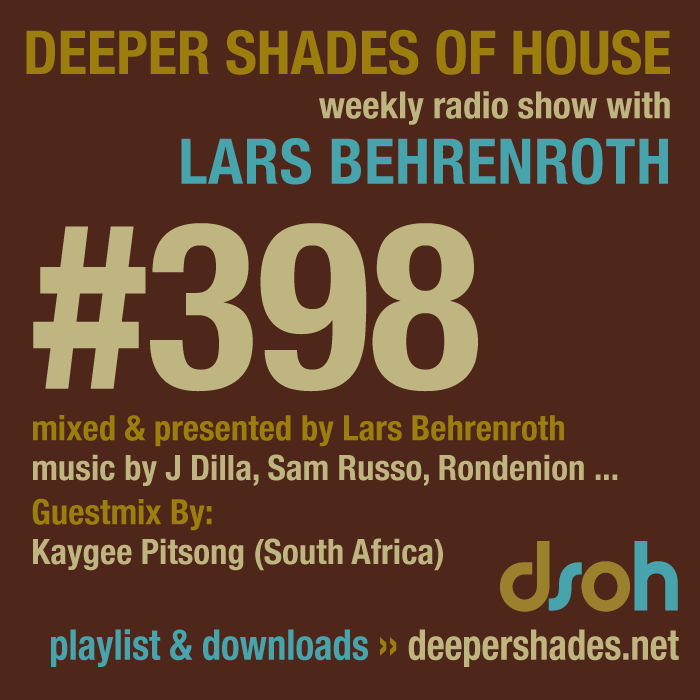 Download Part 1
Download Part 2
EXECUTIVE PRODUCER FOR DEEPER SHADES OF HOUSE EPISODE #398:
Gladwin Mfolo - find out how to become Executive Producer
1st hour
mixed & presented by Lars Behrenroth

artist - title - label
D.nel - Mysteries Of The Soil (Ofuren Remix) - Roots Go Deep
Creative Swing Alliance - Give It To Me - Endless Flight
Chasing Kurt - Galaxy Hero - Carry On
J Dilla - Birthright (Dillatroit) - Mahogani Music
Chapter Three - Smurf Trek (The Revenge Edit) - Z Records
Sam Russo - Fuck My MPC (Huxley Remix) - Fullbarr
Michael McLardy - Where Were You (Original Mix) - Flumo Recordings
Isherwood - Black Keys, Moogs and Phattys - Tact Recordings
Rondenion - Song A (Original Mix) - Faces Records
Savile & Oline - Horizon (Marlows Raw Perspective) - Wazi Wazi Music
Sello - Before The Fame (Original Mix) - Sucre Recordings
2nd hour
Exclusive guest mix by KAYGEE PITSONG (Deep House Maniacs, South Africa)

# - artist - title - label
1. Nicholas - all i can give(original mix) 4lux black records
2. Dj Fortee feat Rethabile - Bring it(Fortee's deeper mix) Hat Music
3. Heureux Deep Ft Tumi - Black Woman(Serabutangha's Soul remix) Beatroot inc music
4. Marbert Rocel - Small Hours (Jakob Korn Remix) compost Records
5. Ivan The Terrible - My Love (Original Mix) Nurvous Records
6. Nesh Underground - The Comfort zone (Original Mix) Hat Music
7. Andy Vaz Feat. Niko Marks - Don't Lose Your Mind (Soul Vocal Mix) Delson Records
8. Zaki & Manish - So Good (Ross Couch Remix) Muak Music
9. Paul Solaris feat Sifiso Makhubu - No talking on the dancefloor (original mix) Headroom Entertainment
10. Deep House Maniacs Feat Siba - Cloud 9 (original mix) Deeper Shades Recordings


Deeper Shades of House is a 100% listener supported program
We need your help to keep it going and pay for all related costs.
Please consider becoming a
Premium member
and gain access to exclusive mixes and shows!
Become A Premium Member And Get More Music