DSOH #391 - guestmix by FUNK DEEPSTAR
Thank you for rating this article.
Friday, May 25th 2012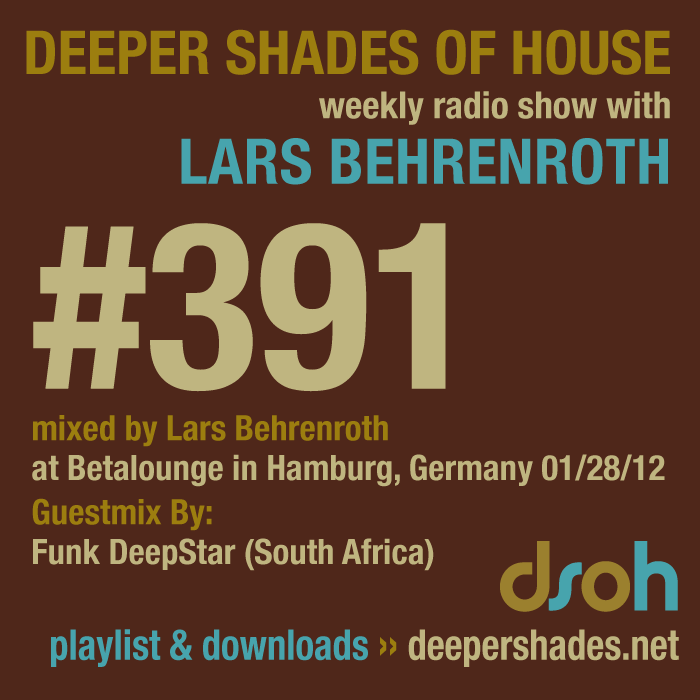 default
default
EXECUTIVE PRODUCER FOR DEEPER SHADES OF HOUSE EPISODE #391:
Bronwyn Morgan
-
find out how to become Executive Producer


1st hour
mixed & presented by
Lars Behrenroth

recorded live at Betalounge in Hamburg, Germany on January 28th 2012
Sorry, no tracklist
Download the entire 4+ hour Betalounge set .. (280mb)


2nd hour
Exclusive guest mix by FUNK DEEPSTAR (Soul Candi - DSOH, South Africa)

# - artist - title / label
1. Cannon Soul - To Those We Have Lost (Dub Tribute) / unreleased *promo*
2. Maceo Plex - Frisky (Original) / Crosstown Rebels
3. G. Family - The Guest (Original) / Foliage Records
4. Evren Furtuna - Circles (Original Mix) / Spring Tube
5. DJ Yellow& Yota - I Can't Resist You (Franck Roger Remix) / Composite Records
6. Mr. O& Shimmy Tones - melodica (Ted Jood Remix) / TRUMUSIC
7. Surreal Pill - Red Herb (Original Mix) / Orange Groove Records
8. Bevan Godden Feat. Maiya - Faith (Ten83 Ghetto Run Vocal Mix) / DM.Recordings
9. 7b - Evangelium Des Tiefen - Original Mix / Lemongrassmusic
10. Terranova Feat. Everybody - Hotel Amor / Kompakt
11. The Moodyfreaks& Donald Sheffey - Wonderful (Mummified Mix) /SPR

default default


Deeper Shades of House is a listener supported show.
If you enjoy this program on a regular basis, please consider donating.